THE ISLAND LECTURE SERIES IS BACK!
Overcoming "Small Size" in the Caribbean: The Role of CARICOM
with Dr. Nand C. Bardouille
Tuesday, March 29, 2018 | 7 p.m. | Main Building Faculty Lounge

The March 2018 Island Studies Lecture will take place on Tuesday, March 20, at 7 p.m. in the SDU Main Building Faculty Lounge on the UPEI campus and will feature Dr. Nand C. Bardouille speaking about the important role of regional integration in positioning Caribbean island states to overcome the disadvantages associated with "small size."
"Either we integrate or we perish…" For forty-plus years, this famous aphorism has given impetus to a grouping of mainly small island states in the Caribbean Basin that is endeavouring to advance regional integration. This lecture addresses the question: What role does the Caribbean Community (CARICOM), which is one of the oldest regional integration projects in the developing world, play in positioning its members to overcome their "small size" in the international system? CARICOM is a grouping of fifteen member states and five associate members, which span the archipelagic state of The Bahamas in the northern part of the Caribbean Basin to the low-lying coastal states of Suriname and Guyana in South America. Dr. Bardouille will call attention to the vitally important role of collaborative regional governance arrangements in undergirding the viability of Caribbean island states. He will focus on how CARICOM enables co-ordinated regional responses to constraints/vulnerabilities associated with "small size" and the achievement of policy success for its members that face "existential threats," such as climate change and transnational crime. Dr. Bardouille will trace the key milestones/achievements of and the challenges that confront CARICOM and will reflect on CARICOM's prospects.
Dr. Nand C. Bardouille, a national of Dominica, is currently a visiting professor in the Master of Arts in Island Studies (MAIS) program at UPEI.
Admission to the lecture is free and everyone is welcome to attend.
Watch for another lecture about islands – near and far – April 17. For more information, please contact Laurie at iis@upei.ca or (902) 894-2881.
______________________________________________________________________
WELCOME TO THE INSTITUTE OF ISLAND STUDIES!
Our vision:
to be the leading centre of excellence on issues related to island studies scholarship, public policy, and engagement.
Our mandate:
To encourage a deep knowledge, understanding, and expression of Prince Edward Island;
To serve as a bridge between the University and Island communities;
To contribute to the formulation of public policy in Prince Edward Island;
To undertake and facilitate island studies research and education at local, national, and global scales.
_________________________________________________________________
NEW BOOKS FROM ISLAND STUDIES PRESS:
Owen Connolly: the Making of a Legacy 1820-2016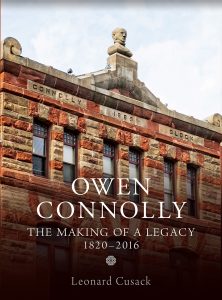 From 1888 to 2016, the Owen Connolly Estate has funded approximately $3 million to help thousands of Prince Edward Island students of Irish Catholic heritage gain a higher education and achieve career success. This is the remarkable rags-to-riches story of the man who created this legacy, and the people who protected it.
Owen Connolly was a young immigrant lad escaping poverty and repression in his homeland of Ireland when he first stepped onto the docks in Charlottetown, P.E.I. in 1839. Armed with little more than determination and grit — and a brilliant financial mind — over the next forty years he rose from being a dirt-poor farmer to one of the wealthiest men on Prince Edward Island.
His story unfolds against the backdrop of the 19th-century boom times on P.E.I. By 1852, Connolly had set up his own store in Charlottetown and within a few years he was wholesaling goods to other merchants, especially at small rural stores. He expanded into importing and exporting, banking, real estate; set up branch stores in Souris, Cardigan, and Montague; and became one of Charlottetown's most prominent citizens.
Owen Connolly was a special kind of entrepreneur; with little formal education, he could write well and was good with numbers. When he died in 1887, he left almost all of his fortune to provide bursaries to poor Irish Catholic students from P.E.I.
The management of his estate is also an amazing story. Its many trustees, including prominent figures in the Roman Catholic church, have steered the estate through tumultuous times and continue to operate it on a sound financial basis. Today, its value remains at over $2 million.
7.5 x 10.25, 216 pages printed b/w, with 8-page 'Appreciations Gallery' in colour
ISBN 978-1-988692-09-8 (soft cover) $29.95
CLICK HERE TO PURCHASE SOFT COVER
ISBN 979-1-988692-11-1 (hard cover with dustjacket) $49.95
CLICK HERE TO PURCHASE HARD COVER
From Black Horses to White Steeds:
Building Community Resilience
Edited by Laurie Brinklow and Ryan Gibson

From Black Horses to White Steeds: Building Community Resilience celebrates and critiques the dynamics of innovation, governance, and culture in place. Case studies from both sides of the North Atlantic illustrate episodes of "turning around"; evolution, transformation, and visionary strategy that breathe new life into the term "think global, act local."
The chapters explore how various dark horses including minorities, small towns, peripheries, Aboriginal communities, those with little money, status, voice, or political leverage can rise to the occasion and chart livable futures.
From Black Horses to White Steeds is a companion book to Remote Control (ISER 2009) and Place Peripheral (ISER 2015).
"Rural folks have always been both resilient and resourceful. The narratives in this book are truly inspiring in ways to deal with the current and future pace as new technology and environmental change presents challenges and opportunities. Local communities everywhere will benefit from the insights contained herein."
– Hon. Diane Griffin, Senate of Canada

"Like so many collections of case studies, this book provides plenty of inspiring examples. Unlike many, however, it includes useful international comparisons with thoughtful interpretations, methodological transparency, and respect for the limits of the techniques that make the cases useful for critical analysis as well as activism."
– Bill Reimer, Professor Emeritus, Sociology and Anthropology, Concordia University

"That remote rural and island communities should thrive in this day and age might fly in the face of conventional wisdom. Yet, there is clear evidence of vibrant communities that creatively exploit the opportunities presented by their geographical predicament. No horsing around here: these are narratives of leadership, vitality, and resilience; crafted out of grit, imagination, and public / private / voluntary-sector partnerships."
– Godfrey Baldacchino, UNESCO co-chair in Island Studies and Sustainability, UPEI, Canada


6×9, 378 pages with photos, charts, tables
Endnotes, Bibliography, and Index
ISBN 978-1-988692-07-4
Also available as a PDF
CLICK HERE TO PURCHASE
______________________________________________________________________
Island Studies Press book picks up Atlantic Book Award nomination
The Atlantic Book Award Society recently announced the nominees for the 2017 Atlantic Book Awards. Among the shortlist for the Democracy 250 Atlantic Book Award for Historical Writing was New London: The Lost Dream by John Cousins, published by Island Studies Press at UPEI. Although New London: The Lost Dream, was not the winner, we are honoured to have had one of our books in the running. Congratulations, John!
The book tells the remarkable true story of the Quaker settlement, which existed on PEI's North Shore between 1773-1795, at French River. The settlement's leader was Robert Clark, a wealthy Quaker from London, England. Rather than farming or fishing, Clark wanted to create a commercial outpost on what he considered the doorstep to the new world. He named the settlement New London, after the city he had left, and brought with him fellow Quaker tradespeople and artisans, who had never experienced wilderness, and certainly never the harsh weather of PEI's north shore in winter. How they survived, and occasionally thrived—the settlement numbered more than 100 at its peak—is related in this remarkable book by author and historian John Cousins, of Bloomfield, PEI.
Cousins recreated the rise and fall of this Quaker community through new and old sources, including three diaries written by settlers and correspondence with England.
John Cousins is a descendant of two of those settlers, John Cousins and Mary Townsend. As well as being a retired teacher and school administrator, he is a well-respected Island historian and taught folklore at UPEI for many years.
---
Ed MacDonald receives Award of Honour
Congratulations to Ed MacDonald, associate professor of History at UPEI, who was presented with the Award of Honour at this year's PEI Museum and Heritage Foundation awards, held February 21 at Beaconsfield Carriage House.
The Award of Honour recognizes outstanding service and continued contribution to the heritage activities of Prince Edward Island. Ed MacDonald has become the "go-to historical guy" on PEI for his wide-ranging knowledge of Island history, and his generosity in sharing it through his teaching at UPEI, his participation in public events which mark our Island history, and his encouragement of many others to research, write, and publish historical articles or manuscripts on Prince Edward Island.
MacDonald was one of three editors of Time and a Place, An Environmental History of Prince Edward Island, which received a Heritage Activity award for 2016 at the awards evening.
Ed MacDonald has written other titles of particular historical value to PEI:  If You're Stronghearted: PEI in the Twentieth Century (2000), and he was co-author of The Landscapes of Confederation (2010).
Here he accepts his award from Hon. Frank Lewis, Lt. Gov. of PEI.
PHOTO COURTESY GOV'T OF PEI / BRIAN L. SIMPSON
---
Time and a Place wins Award for Heritage Activity
PEI's new environmental history, Time and a Place was honoured recently with a Heritage Activity award by the PEI Museum and Heritage Foundation.
Congratulations to Irene Novaczek, left, and Ed MacDonald, centre, two of the book's three editors as they receive their certificates from Hon. Frank Lewis, Lt. Gov. of Prince Edward Island. The final editor is Josh MacFadyen.
Time and a Place is the first-ever environmental history of any province in Canada, and was co-published in 2016 by Island Studies Press and McGill-Queens University Press. It is available in print by clicking here.
---
"New London" wins Publication of the Year Award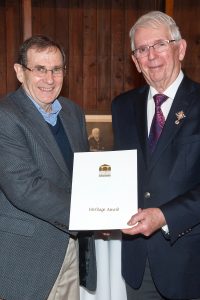 Congratulations to John Cousins, author of New London: The Lost Dream, for winning the Publication of the Year Award from the PEI Museum and Heritage Foundation.
This prestigious award was presented at the PEI MHF's annual awards night, held February 21 in Charlottetown. Author John Cousins, left, accepts his award from Hon. Frank Lewis, Lt. Gov. of PEI.
New London: The Lost Dream tells the story of the rise and fall of the Quaker settlement which existed on PEI's North Shore from 1773 to 1795. It is available as both a print and digital book, by clicking here.
PHOTO COURTESY GOV'T OF PEI / BRIAN L. SIMPSON
---
IIS Research Associate Dr. Tiber Falzett wins award for Heritage Activity
Congratulations to Dr. Tiber Falzett, an Institute of Island Studies Research Associate, for taking home a Heritage Activity Award from the PEI Museum and Heritage Foundation on February 21.
Dr. Falzett was recognized for the work he has done celebrating the legacy and encouraging renewal of the Scottish Gaelic language on Prince Edward Island.
Here he accepts his award from accepts his award from Hon. Frank Lewis, Lt. Gov. of PEI.
PHOTO COURTESY GOV'T OF PEI / BRIAN L. SIMPSON
---
November 4, 2016
A Tribute to George McRobie by Practical Action, UK
On November 4, 2016, Practical Action, a UK-based NGO founded by E.F. Schumacher 50 years ago, held a celebration of the life and work of one of its founders George McRobie, a close associate of E F. Schumacher and chairman from 1977 to 1983. Family and friends gathered at St Andrew, Holborn, along with many former Practical Action colleagues, to remember a man who was crucial to the development of the organisation over many decades. Download a slideshow of images from the event or listen to the tributes, including one from his wife, Susanne Manovill, who made generous mention of the Institute of Island Studies. MORE…
---
October 27, 2016
CONGRATULATIONS to Diane Griffin, Institute of Island Studies Advisory Council Member, who has been appointed to the Senate of Canada!
Diane has been a long-time supporter of the Institute, having served on its Advisory Board and as Chair of many of our Public Forums over the years. We applaud her appointment wholeheartedly.
Diane will bring a wealth of knowledge and experience to the Red Chamber – along with her passion for all things Prince Edward Island.
CBC NEWS REPORT
THE GUARDIAN REPORT
---
July 22, 2016
A Tribute to Long-time Friend of the Institute of Island Studies: Dr. George McRobie
by Harry Baglole
Dr. George McRobie died in Charlottetown on Friday, July 2, 2016. The trajectory of his remarkable life took him from his birthplace of Moscow (1925), through his childhood in northern Scotland, his highly successful career in London and throughout the world, and finally here to Prince Edward Island, his half-time home since 2009. He was a man of great personal warmth and charm, much beloved by his many friends on the Island. READ MORE
---
Two good friends of the Institute of Island Studies receive awards at the 2016 Congress in Calgary!
Congratulations go out to Dr. Lisa Chilton and Dr. Edward MacDonald of UPEI's history department, who were nationally recognized for excellence in research and service. READ MORE…
---
VISIT
THE FRIENDS OF THE INSTITUTE OF ISLAND STUDIES
ON FACEBOOK
or sign up for our LISTSERV… To subscribe, send us an e-mail: iis@upei.ca
---
CHECK OUT OUR NEW BROCHURE!
(Click on each to enlarge or download the
PRINTABLE VERSION)