WELCOME TO THE INSTITUTE OF ISLAND STUDIES!
Our vision:
to be the leading centre of excellence on issues related to island studies scholarship, public policy, and engagement.
Our mandate:
To encourage a deep knowledge, understanding, and expression of Prince Edward Island;
To serve as a bridge between the University and Island communities;
To contribute to the formulation of public policy in Prince Edward Island;
To undertake and facilitate island studies research and education at local, national, and global scales.
---
UPCOMING EVENTS
Tuesday, May 16, 2017 | 7 p.m. | UPEI Main Building Faculty Lounge
Island Studies May Lecture: The Economic Success of Mauritius
with Ouma Cuniah
The May Island Studies Lecture is Tuesday, May 16, at 7 p.m. in the SDU Main Building Faculty Lounge on the UPEI campus, featuring Mauritius native and now Prince Edward Islander, Ms Ouma Cuniah, speaking about the economic success of her home island, Mauritius.
Nobel prize-winning economist James Meade famously predicted a dismal future for Mauritius when he wrote in 1961, "It is going to be a great achievement if (the country) can find productive employment for its population without a serious reduction in the existing standard of living… (The) outlook for peaceful development is weak."
And yet, nearly 50 years post-independence, on the Global Peace Index Mauritius ranked No. 1 as the most peaceful country in Sub-Saharan Africa and 23rd globally. The country also ranked first in Africa on the Word Economic Freedom Index 2016 and is in the fifth position internationally – tying with Canada, Georgia, Ireland, and UAE.
Mauritius, an island of 1,852 km², is located in the Indian Ocean, east of Madagascar. The island was successively colonized by the Dutch, the French, and the British. It became independent in 1968. With a population of nearly 1.3 million, the country derives its identity from a strong fabric of multiculturalism, multilingualism, and African, Asian, and European ethnicities.
Ouma Cuniah will talk about the drivers behind the economic development of the country and draw comparisons and parallels with other islands sharing similar history, and with Prince Edward Island.
Ouma has been working at UPEI since July 2015. She holds a master's degree in Commerce, and as a Chartered Certified Accountant has worked closely with the corporate sector in Mauritius and other neighbouring islands for nearly two decades.
Admission to the lecture is free and everyone is welcome to attend.
This is the final lecture for the academic year. Watch for another lecture about islands – near and far – starting in the fall. For more information, please contact Laurie at iis@upei.ca or (902) 894-2881.
_________________________________________________________________________
Wednesday, May 24, 2017 | 7-9 p.m. | MacKinnon Lecture Theatre, Room 242, MacDougall Hall, UPEI
PUBLIC SYMPOSIUM
Rural Tourism Policy: Iceland/PEI Consultation
Rural tourism will be the subject of a public symposium at UPEI on Wednesday, May 24, 7-9 p.m., in the Alex H. MacKinnon Lecture Theatre, Room 242, Don and Marion McDougall Hall.
"Tourism, Place and Identity: Rural Tourism in Iceland and Prince Edward Island"– sponsored by the Institute of Island Studies and UPEI's VP Research and Academic – will feature Ms. Gudrun Gunnarsdottir of the Tourism Research Centre in Akureyri, Iceland. She will be joined by a Panel of authorities/practitioners in PEI Tourism, including Dr. Ed MacDonald of UPEI's History Department and Ann Worth, Executive Director of Meetings and Conventions PEI.
In recent years, there has been a dramatic increase in the number of tourists visiting Iceland, so that tourism density there now rivals that of Prince Edward Island. The nature of the tourism industry is broadly similar in both islands – generally seasonal, with a heavy stress on cultural and environmental resources.  Also, in both islands there has been a concerted effort by policy-makers to utilize tourism as a community-development tool for the more rural areas.  This has met with mixed success – and has raised a whole new set of issues. There is benefit for both islands in sharing experiences, insights, and possible solutions.
Gudrun Gunnarsdottir, presently Director of the Icelandic Research Centre at the University of Akureyri in northern Iceland, is a graduate of  the MBA in Tourism Management program at the University of Guelph. She is a specialist in rural tourism.  From 2011 to 2014, she worked on a study – "The Entangled Web: Tourism, Place and Identity" – exploring how three small Icelandic communities have embraced the ever increasing role of tourism.
For further information, please contact (902) 894-2881 or iis@upei.ca.
_________________________________________________________________________
Island Studies Press book picks up Atlantic Book Award nomination
The Atlantic Book Award Society recently announced the nominees for the 2017 Atlantic Book Awards. Among the nominees for the Democracy 250 Atlantic Book Award for Historical Writing is New London: The Lost Dream by John Cousins, published by Island Studies Press at UPEI. The Awards will be given out in Paul O'Regan Hall, Halifax Central Library, on Thursday, May 18 at 7:00 p.m.
The book tells the remarkable true story of the Quaker settlement, which existed on PEI's North Shore between 1773-1795, at French River. The settlement's leader was Robert Clark, a wealthy Quaker from London, England. Rather than farming or fishing, Clark wanted to create a commercial outpost on what he considered the doorstep to the new world. He named the settlement New London, after the city he had left, and brought with him fellow Quaker tradespeople and artisans, who had never experienced wilderness, and certainly never the harsh weather of PEI's north shore in winter. How they survived, and occasionally thrived—the settlement numbered more than 100 at its peak—is related in this remarkable book by author and historian John Cousins, of Bloomfield, PEI.
Cousins recreated the rise and fall of this Quaker community through new and old sources, including three diaries written by settlers and correspondence with England.
John Cousins is a descendant of two of those settlers, John Cousins and Mary Townsend. As well as being a retired teacher and school administrator, he is a well-respected Island historian and taught folklore at UPEI for many years.
Congratulations, John!
---
Ed MacDonald receives Award of Honour
Congratulations to Ed MacDonald, associate professor of History at UPEI, who was presented with the Award of Honour at this year's PEI Museum and Heritage Foundation awards, held February 21 at Beaconsfield Carriage House.
The Award of Honour recognizes outstanding service and continued contribution to the heritage activities of Prince Edward Island. Ed MacDonald has become the "go-to historical guy" on PEI for his wide-ranging knowledge of Island history, and his generosity in sharing it through his teaching at UPEI, his participation in public events which mark our Island history, and his encouragement of many others to research, write, and publish historical articles or manuscripts on Prince Edward Island.
MacDonald was one of three editors of Time and a Place, An Environmental History of Prince Edward Island, which received a Heritage Activity award for 2016 at the awards evening.
Ed MacDonald has written other titles of particular historical value to PEI:  If You're Stronghearted: PEI in the Twentieth Century (2000), and he was co-author of The Landscapes of Confederation (2010).
Here he accepts his award from Hon. Frank Lewis, Lt. Gov. of PEI.
PHOTO COURTESY GOV'T OF PEI / BRIAN L. SIMPSON
---
Time and a Place wins Award for Heritage Activity
PEI's new environmental history, Time and a Place was honoured recently with a Heritage Activity award by the PEI Museum and Heritage Foundation.
Congratulations to Irene Novaczek, left, and Ed MacDonald, centre, two of the book's three editors as they receive their certificates from Hon. Frank Lewis, Lt. Gov. of Prince Edward Island. The final editor is Josh MacFadyen.
Time and a Place is the first-ever environmental history of any province in Canada, and was co-published in 2016 by Island Studies Press and McGill-Queens University Press. It is available in print by clicking here.
---
"New London" wins Publication of the Year Award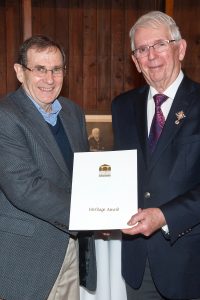 Congratulations to John Cousins, author of New London: The Lost Dream, for winning the Publication of the Year Award from the PEI Museum and Heritage Foundation.
This prestigious award was presented at the PEI MHF's annual awards night, held February 21 in Charlottetown. Author John Cousins, left, accepts his award from Hon. Frank Lewis, Lt. Gov. of PEI.
New London: The Lost Dream tells the story of the rise and fall of the Quaker settlement which existed on PEI's North Shore from 1773 to 1795. It is available as both a print and digital book, by clicking here.
PHOTO COURTESY GOV'T OF PEI / BRIAN L. SIMPSON
---
IIS Research Associate Dr. Tiber Falzett wins award for Heritage Activity
Congratulations to Dr. Tiber Falzett, an Institute of Island Studies Research Associate, for taking home a Heritage Activity Award from the PEI Museum and Heritage Foundation on February 21.
Dr. Falzett was recognized for the work he has done celebrating the legacy and encouraging renewal of the Scottish Gaelic language on Prince Edward Island.
Here he accepts his award from accepts his award from Hon. Frank Lewis, Lt. Gov. of PEI.
PHOTO COURTESY GOV'T OF PEI / BRIAN L. SIMPSON
---
November 4, 2016
A Tribute to George McRobie by Practical Action, UK
On November 4, 2016, Practical Action, a UK-based NGO founded by E.F. Schumacher 50 years ago, held a celebration of the life and work of one of its founders George McRobie, a close associate of E F. Schumacher and chairman from 1977 to 1983. Family and friends gathered at St Andrew, Holborn, along with many former Practical Action colleagues, to remember a man who was crucial to the development of the organisation over many decades. Download a slideshow of images from the event or listen to the tributes, including one from his wife, Susanne Manovill, who made generous mention of the Institute of Island Studies. MORE…
---
October 27, 2016
CONGRATULATIONS to Diane Griffin, Institute of Island Studies Advisory Council Member, who has been appointed to the Senate of Canada!
Diane has been a long-time supporter of the Institute, having served on its Advisory Board and as Chair of many of our Public Forums over the years. We applaud her appointment wholeheartedly.
Diane will bring a wealth of knowledge and experience to the Red Chamber – along with her passion for all things Prince Edward Island.
CBC NEWS REPORT
THE GUARDIAN REPORT
---
July 22, 2016
A Tribute to Long-time Friend of the Institute of Island Studies: Dr. George McRobie
by Harry Baglole
Dr. George McRobie died in Charlottetown on Friday, July 2, 2016. The trajectory of his remarkable life took him from his birthplace of Moscow (1925), through his childhood in northern Scotland, his highly successful career in London and throughout the world, and finally here to Prince Edward Island, his half-time home since 2009. He was a man of great personal warmth and charm, much beloved by his many friends on the Island. READ MORE
---
Two good friends of the Institute of Island Studies receive awards at the 2016 Congress in Calgary!
Congratulations go out to Dr. Lisa Chilton and Dr. Edward MacDonald of UPEI's history department, who were nationally recognized for excellence in research and service. READ MORE…
---
VISIT
THE FRIENDS OF THE INSTITUTE OF ISLAND STUDIES
ON FACEBOOK
or sign up for our LISTSERV… To subscribe, send us an e-mail: iis@upei.ca
---
CHECK OUT OUR NEW BROCHURE!
(Click on each to enlarge or download the
PRINTABLE VERSION)