The Folklore Studies Association of Canada / L'Association canadienne d'ethnologie et de folklore Annual Meeting
May 25-27 2018 | UPEI Main Building FREE AND OPEN TO THE PUBLIC
OPENING REMARKS: Friday, May 25, 5-6:30 p.m., Main Building Faculty Lounge, followed by LECTURE: "Recueillir, conserver et partager la chanson traditionnelle acadienne de l'Île-du-Prince- Édouard" by Georges ArsenaultLECTURE: Saturday, May 26, 5-6:30 p.m., Carriage House, Beaconsfield, 2 Kent Street, Charlottetown: "The Witch & the Song Maker as Law Givers in Island Farming & Fishing Communities" by John Cousins

ROUNDTABLE AND READING: Sunday, May 27, 11 a.m. to noon: "A Tribute to Sandy Ives," with Laurie Brinklow, John Cousins, Pauleena MacDougall, and Rob MacLean of The Homestead Players

***

Two pre-eminent Island folklorists received prestigious Marius Barbeau Medal

From 25-27 May 2018, The Folklore Studies Association of Canada / L'Association canadienne d'ethnologie et de folklore held its annual meeting at the University of Prince Edward Island in collaboration with the Institute of Island Studies.

This year's theme, "Carried on the Waves: Contemporary Currents in Folklore and Ethnology / Porté par les Vagues: Courants Actuels d'Ethnologie et de Folklore," inspired researchers to explore the flow of expression among various groups over time and place. READ MORE…
______________________________________________________________________
NEW BOOKS FROM ISLAND STUDIES PRESS IN 2017:
Owen Connolly: the Making of a Legacy 1820-2016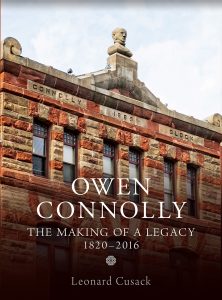 From 1888 to 2016, the Owen Connolly Estate has funded approximately $3 million to help thousands of Prince Edward Island students of Irish Catholic heritage gain a higher education and achieve career success. This is the remarkable rags-to-riches story of the man who created this legacy, and the people who protected it.
Owen Connolly was a young immigrant lad escaping poverty and repression in his homeland of Ireland when he first stepped onto the docks in Charlottetown, P.E.I. in 1839. Armed with little more than determination and grit — and a brilliant financial mind — over the next forty years he rose from being a dirt-poor farmer to one of the wealthiest men on Prince Edward Island.
His story unfolds against the backdrop of the 19th-century boom times on P.E.I. By 1852, Connolly had set up his own store in Charlottetown and within a few years he was wholesaling goods to other merchants, especially at small rural stores. He expanded into importing and exporting, banking, real estate; set up branch stores in Souris, Cardigan, and Montague; and became one of Charlottetown's most prominent citizens.
Owen Connolly was a special kind of entrepreneur; with little formal education, he could write well and was good with numbers. When he died in 1887, he left almost all of his fortune to provide bursaries to poor Irish Catholic students from P.E.I.
The management of his estate is also an amazing story. Its many trustees, including prominent figures in the Roman Catholic church, have steered the estate through tumultuous times and continue to operate it on a sound financial basis. Today, its value remains at over $2 million.
7.5 x 10.25, 216 pages printed b/w, with 8-page 'Appreciations Gallery' in colour
ISBN 978-1-988692-09-8 (soft cover) $29.95
CLICK HERE TO PURCHASE SOFT COVER
ISBN 979-1-988692-11-1 (hard cover with dustjacket) $49.95
CLICK HERE TO PURCHASE HARD COVER
__________________________________________________________________
From Black Horses to White Steeds:
Building Community Resilience
Edited by Laurie Brinklow and Ryan Gibson, From Black Horses to White Steeds: Building Community Resilience celebrates and critiques the dynamics of innovation, governance, and culture in place. Case studies from both sides of the North Atlantic illustrate episodes of "turning around"; evolution, transformation, and visionary strategy that breathe new life into the term "think global, act local.
The chapters explore how various dark horses including minorities, small towns, peripheries, Aboriginal communities, those with little money, status, voice, or political leverage can rise to the occasion and chart livable futures.
From Black Horses to White Steeds is a companion book to Remote Control (ISER 2009) and Place Peripheral (ISER 2015).
"Rural folks have always been both resilient and resourceful. The narratives in this book are truly inspiring in ways to deal with the current and future pace as new technology and environmental change presents challenges and opportunities. Local communities everywhere will benefit from the insights contained herein."
– Hon. Diane Griffin, Senate of Canada

"Like so many collections of case studies, this book provides plenty of inspiring examples. Unlike many, however, it includes useful international comparisons with thoughtful interpretations, methodological transparency, and respect for the limits of the techniques that make the cases useful for critical analysis as well as activism."
– Bill Reimer, Professor Emeritus, Sociology and Anthropology, Concordia University

"That remote rural and island communities should thrive in this day and age might fly in the face of conventional wisdom. Yet, there is clear evidence of vibrant communities that creatively exploit the opportunities presented by their geographical predicament. No horsing around here: these are narratives of leadership, vitality, and resilience; crafted out of grit, imagination, and public / private / voluntary-sector partnerships."
– Godfrey Baldacchino, UNESCO co-chair in Island Studies and Sustainability, UPEI, Canada
6×9, 378 pages with photos, charts, tables
Endnotes, Bibliography, and Index
ISBN 978-1-988692-07-4
Also available as a PDF
CLICK HERE TO PURCHASE
__________________________________________________________________
_________________________________________________________________
---
Wednesday, December 14, 2016 | 7 p.m. | Upstreet Craft Brewing,
Allen Street, Charlottetown
Island Studies Press publishes two new books:
---
Tuesday, March 15, 2016 | J. Angus MacLean Building, Charlottetown, PEI
Chair of the Institute of Island Studies and Co-ordinator of the MAIS Program
Dr. Jim Randall shares his thoughts on Quality of Life with
PEI Standing Committee on Health and Wellness
Some of my research has been spent looking at quality-of-life indicators. I was part of a team at the U. of Saskatchewan that assessed neighbourhood level quality of life of residents. This team included geographers, epidemiologists, sociologists and business management professors from university as well as City Councilors and representatives of the health district and community-based organizations in the Saskatoon region. This research was carried out several times so we were able to fine tune an instrument that we were comfortable was fairly accurate in assessing how individuals felt about their own quality of life (degree of "happiness," sense of belonging). It also was used to help direct public policy (neighbourhood inequality, health determinants and perceptions of personal health and security). As I will talk about shortly, this is only one kind of instrument that can be used to assess quality of life.
Since coming to UPEI I have maintained my working relationship with this group. We carried out another version of this quality of life project several years ago, comparing perceptions of quality of life among residents in Charlottetown, Hamilton and Saskatoon. We employed a survey research company to carry out a telephone survey for this work and then followed up with focus groups, especially focusing on newcomers to each of these urban places. READ MORE
Jim Randall Population Symposium Presentation:
Population Characteristics on Prince Edward Island as a Small Island: Setting the Stage
Katie Mazer Population Symposium Presentation:
Making mobile workers in the oil sands era
Ed MacDonald's Rapporteur's Report
(published in The Guardian February 12 and 16, 2016)
History and PEIs Population Dilemma 
Population Symposium Video (1:55:58)
CBC News coverage: P.E.I. is experiencing a demographic and cultural shift, experts say
(posted January 22, 2016)
CBC News coverage: Flexible Canadian workforce not necessarily a good thing, P.E.I. researcher says (posted January 21, 2016)
The Institute of Island Studies and the Master of Arts in Island Studies program hosted the 2nd annual Island Studies Open House in the UPEI Faculty Lounge. The program included remarks from IIS Chair Dr. Jim Randall on the IIS's accomplishments over the past year, and words from VP Research and Graduate Studies Dr. Robert Gilmour and VP Academic Dr. Christian Lacroix. Joan Sinclair of Island Studies Press spoke about the year's publishing highlights and Dr. Jean Mitchell talked about her ongoing research on the islands of Vanuatu. Dr. Richard Lemm presented an Island Studies Teaching Fellow designation to Dr. Brent MacLaine (in absentia and now retired from UPEI's English Department), in recognition of his longstanding work and dedication to the academic program. Finally, scholarships were awarded to several MAIS students. As always, a huge thank you goes to the scholarship donors.

---
August 1, 2015 | 7:30 p.m. | Macphail Homestead, Orwell, PEI
May 26, 2015 | 7 p.m. | Main Building Faculty Lounge
---
April 22, 2014 | Final report of the Institute of Island Studies Futures Committee
In the fall of 2013, UPEI created a committee to advise on the future operations of the University's longstanding and widely respected institute for research and public policy: the Institute of Island Studies. The Institute of Island Studies Futures Committee, in cooperation with UPEI's Vice-President Research and Graduate Studies, and Interim Vice-President Academic has released its final report, entitled: "One Step Back, and Two Steps Forward," which is available for download and review.
Using as its starting point, an external consultants' report commissioned in 2013, the report endorses the current mandate of the Institute as a centre for the comparative study of Prince Edward Island and other islands, and outlines a number of options for its future structure and operations. Two of the key recommendations entail adding a national and international scope to the membership of the Institute's advisory committee and a strong commitment to the Institute's role as an honest broker of public dialogue about key issues confronting Prince Edward Island. To that end, the Institute will organize two public forums during 2014, one in the spring and one in the fall, on water resources and land use issues.
In its report, the committee expresses its confidence in the future of the Institute of Island Studies at the University of Prince Edward Island and of the strong support from the University and community.
The full text of the report can be downloaded here.
For more information, contact Dave Atkinson, Research Communications at (902) 620-5117, datkinson@upei.ca.
---
Past Projects from 2008 include:
2007 Tasmanian writer in residence Tim Thorne at UPEI, Charlottetown
Youth Engagement and Mental Health
Past Projects from 2007 include:
PEI Writer Deirdre Kessler Heads off to Writer-in-Residency in Tasmania!
2007 writer in residence Deirdre Kessler (UPEI), in Hobart, Tasmania
The Small Island Cultures Research Initiative Conference
Institute of Island Studies is Pleased to Announce "A World of Islands": An Island Studies Reader
Island Studies Director Moderates Public Forum on Water Quality and Health
Institute of Island Studies Releases Museums Report, March 2007
David Suzuki and the Dreamers' Symposium
The First Chiloe Internship
Northumberland Strait Ecosystem Initiative
CCEDNet Conference
Southern Gulf of St Lawrence Coalition for Sustainability Annual Conference
Past Projects from 2006 include:
2007 writer in residence Danielle Wood at UPEI, Charlottetown
Institute of Island Studies Working with the Northumberland Strait Ecosystem Initiative Working Group
Island Studies Journal Now Available Online
Pacific Voices: Equality & Sustainability in Pacific Island Fisheries
Southern Islands Symposia
Virginia Tech University Environmental Issues Tour of PEI
Public Forum on Cruise ship Tourism
Island Studies hits Hawai'i
Retreat to Advance!
Learning from Research fellows and Associates
Chinese Islanders Book Launches and Art Exhibit
Tasmanian Writer Danielle Wood's Residency at UPEI
The Social Economy Research Network events
Past Projects from 2005 include:
IIS Co-ordinates New Studies on the Atlantic Social Economy
Community Forest Dialogues
Memorandum of Understanding and Association Signed Between The Mi'kmaq Confederacy of PEI, IIS, and UPEI
Institute of Island Studies Celebrates its 20th Anniversary
Online Library Resources Expanded
Prince Edward Island Forest Policy Announced
GMO Report Presented to Standing Committee
Past Projects from 2002-2004 include:
Notes From a Public Lecture on University Avenue
Panel on Coastal Communities
Database of Islands VII Conference Papers
Past Projects from 1998-2002 include:
Islands of the world VII: New Horizons in Island Studies
Knowledge Assessment Methodology (KAM)
Community Capacity Building
Message in a Bottle: the Literature of Small Islands
Island Sustainability, Livelihood and Equity Program (ISLE)
Local Knowledge / Global Challenge: Smart Community Development
The Employment Summit and the Population Strategy
North Atlantic Forum (NAF)