Total Physical Response for Revitalizing Inuinnaqtun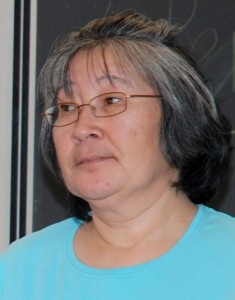 Susie Evyagotailak
Total Physical Response (TPR) is a method of teaching language using physical movement to respond to verbal input in order to reduce student shyness when learning a new language.
In Kugluktuk, located in the Kitikmeot Region of Nunavut, the use of the Inuinnaqtun
language is declining and the children speak mostly English. Susie Evyagotailak wanted to find out if the TPR immersion approach could "become a major tool in revitalizing the language." She used interviews, group discussions, observations, previous school activities and writing folders to find evidence of Bauman's five specific goals for language teaching (to prevent its decline, to expand its role, to fortify its base, to restore its vitality and to revive its use) in the teaching of Inuinnaqtun.