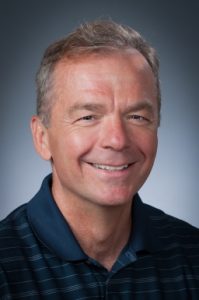 Dr. William Montelpare, PhD Professor; Margaret and Wallace McCain Chair in Human Development and Health- Dr. Montelpare graduated from the University of Toronto with a Ph.D. in Community Health specializing in Biostatistics, Epidemiology and Exercise Science. He started his academic career in 1986 as an Assistant Professor at Brock University in St. Catharines where he served as the first Director of the Health Studies Program from 1991-1998 when it was granted official program status by the Legislative Assembly in the Province of Ontario.  In July 1998, Dr. Montelpare moved to Lakehead University where he served as the Director of the School of Kinesiology until January 1, 2001 when he was seconded to the role of Acting Dean of Graduate studies, a position he held until July 2003. While in the role of Acting Dean he co-developed the first Masters of Public Health (MPH) program to be offered in Canada, and to be offered completely online. In 2010 he accepted a research chair at the University of Leeds (Leeds, UK) and was appointed as Professor of Allied Health Sciences. He returned to Canada in July 2012 as the inaugural, Margaret and Wallace McCain Chair in Human Development and Health at the University of Prince Edward Island.
Throughout his academic career he has taught thousands of students in statistics, research methods, exercise physiology, and health courses, at the undergraduate and graduate levels. He has been elected to the Senates of both Brock and Lakehead Universities, and served on several university, Regional, Provincial and National committees in areas related to university issues as well as within the disciplines of Heath, and in Exercise Science.  As a respected researcher he has been invited to serve on more than 75 graduate thesis committees, research review boards, research grant evaluation committees, Faculty program reviews, and as external examiner for Graduate Dissertations, as well as Promotion and Tenure reviews. His current areas of research include the epidemiology of physical activity related injuries, return to play criteria, and research on human development from pre-conception through gestation to the first 2,000 days.
---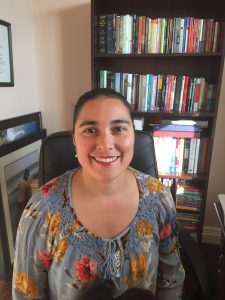 Dr. Angela Riveroll, PhD- Dr. Angela Riveroll is the Network Coordinator and a Research Scientist for the Prince Edward Island Primary Integrated Healthcare Innovations Network (PEI PIHcIN) at UPEI. Dr. Riveroll earned her PhD in Microbiology and Immunology from Dalhousie University and then worked in Pharmaceutical and Biotechnology Industries in research, regulatory affairs and product development for 10 years.  Dr. Riveroll's interests are based in translational health research, moving research from the "bench to bedside" and precision health, a proactive approach to health management across the lifespan that takes into account individual variability in gene sequence, gene expression levels, environmental exposures and lifestyle for each person.  As part of the PIHcIN she has the opportunity to collaborate with citizens, patients, healthcare providers, health policy makers and other scientists to carry out integrated research initiatives as part of the Health-Centered Research Clinic located on the UPEI campus. Development of Saliva-Based Cortisol Biosensors using Smartphone based Image Anaylsis.
---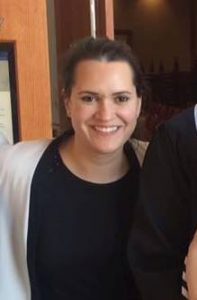 Anja Salijevic, BSc, CHES, CTE- Anja graduated from the University of Utah in 2012 with a BSc in Health Promotion & Education with an emphasis in Community and became CHES certified (Certified Health Education Specialist). She moved back to PEI in 2014 where she worked with the Canadian Cancer Society as the Health Promotion Coordinator educating Islanders on Cancer Prevention and Smoking Cessation. During her time with the society she became a Certified Tobacco Educator (CTE) implementing and evaluating a workplace wellness smoking cessation program. Currently Anja works in the Patient-centred Research Clinic as the Health Educator and Admin within the PEI PIHcI Network.
---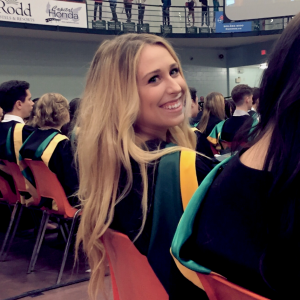 Tessa Roche, Clinic Coordinator- Tessa graduated from University of Prince Edward Island with her Bachelor of Arts, majoring in English in 2012.  During her time at university she played on the UPEI Women's Soccer and Hockey teams.  She completed her Master of Science in the Applied Health Sciences department at UPEI in 2016.  Her master's research focused on test of dynamic balance, dual-task, and ocular reflexes (specifically the vestibulo-ocular and fixation) for concussion assessment.  During her time working as clinic coordinator she has worked with Health PEI on their ongoing Pulmonary and Cardiac Rehabilitation Programs, and has collaborated with the biomechanics group on Parkinson's research studies.  She also works with a pilot program for concussion participants with persistent symptoms in co-operation with Workers Compensation Board of PEI.
---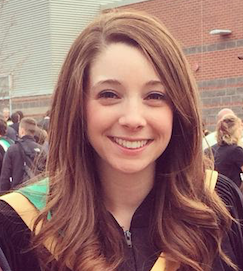 Robyn Connors, Concussion Awareness Program Educational Resource Lead- Robyn began a Bachelor of Science degree in Foods and Nutrition at the University of Prince Edward Island in the fall of 2011. She began working with Bill Montelpare and the concussion evaluation team in her final year of undergraduate study as part of a year long senior undergraduate research project. Following graduation she continued working with the team as she enrolled in a Masters of Science in Human Biology under the supervision of Bill Montelpare where her research focuses on static and dynamic balance as a return to play protocol for concussion. She is currently completing the MSc program while working with the Concussion Awareness Program as an Educational Program Lead.
---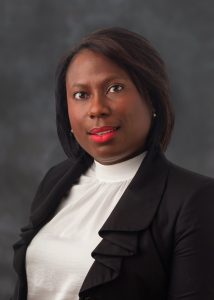 Leslie-Ann Ruben, CFE, FCCA, BBA. Leslie-Ann is the Network Project Manager for the Prince Edward Island Primary Integrated Healthcare Innovation Network.  She is also responsible for the clinic's Administration including Human Resource Management, Finance, grants and contract management.  Leslie-Ann is a member of the Association of Chartered Certified Accountants, a Certified Fraud Examiner, a member of the Canadian Association for Research Administration (CARA) and serves as a Director of the board of Atlantic Canada Chapter of Certified Fraud Examiners (ACFE). Leslie-Ann has over 20 years' experience working in accounting and auditing in public and private sector
---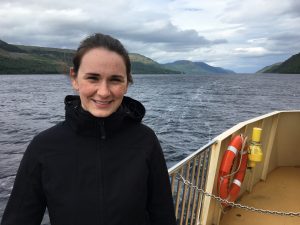 Kate Thompson, PhD Candidate- Katherine (Kate) Thompson is a PhD student at the University of New Brunswick, supervised by Drs. Shelley Doucet (UNB) and William Montelpare (UPEI). Her research focuses on the use of technology to support patient navigation services for children with complex care needs in New Brunswick. More generally, she is interested in research that aims to improve accessibility to health services for individuals experiencing complex and chronic health conditions across Canada. Kate has an M.A. in Psychology from the University of Toronto, and a Bachelor of Arts (double major in Psychology and Music Performance) from the University of Prince Edward Island.
---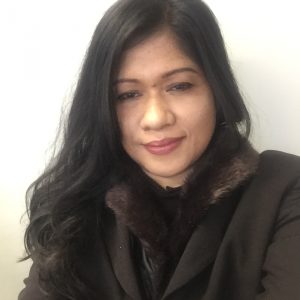 Indika Pradeepa Mahawattage, Masters Candidate- Upon completing the Medical Degree from the Faculty of Medicine, at the University of Kelaniya in Sri lanka, Pradeepa worked as a neurosurgical physician at the department of neurosurgery of the National Hospital of Sri Lanka for 9 years. While there, she provided comprehensive care for in-ward pre-operative, post-operative patients as well as Intensive care and high dependency neurosurgical patients of all ages from pediatric to geriatric with a wide array of neurosurgical presentations such as spinal, cranial, neuroendocrine, neurotrauma, and neuromuscular. She has also managed many neurosurgical out-patient clinics at the National Hospital such as cranial, spinal, head injury, neuroendocrine, and neurovascular.  After moving to  Canada, Pradeepa successfully completed the Medical Council of Canada Evaluation (MCCEE), National Assessment Collaboration(NAC) examination and Medical council of Canada Qualifying Examinations (MCCQE part 1 &  MCCQE Part 2) and became a licentiate of the Medical Council of Canada in 2017. She is currently completing a Masters of Science in Human Biology under the supervision of Dr. Bill Montelpare where her research is focused on assessing the reliability of contralateral auditory suppression magnitudes of transiently evoked otoacoustic emissions, as an evaluation tool for concussion.
---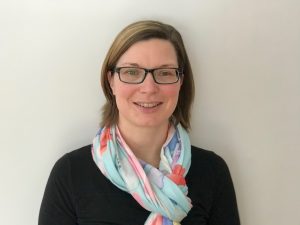 Sarah Sparks, Project Coordinator- is a Project Coordinator working with Dr. William Montelpare on research about the health of 18-month-old children in Prince Edward Island and New Brunswick. Sarah's background experience brings a variety of different knowledge areas to her work.  Sarah started attending Culinary school in Indiana which led her into the world of Dietetics to achieve a BSc.  Following that work she accomplished a MSc. in Human Health & Development from UPEI focusing on children's dietary intakes. Her study area includes the health and well-being of children.
---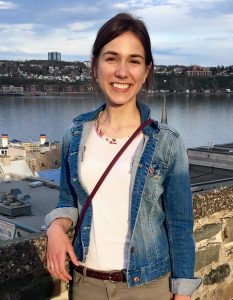 Patricia Malinski, Masters Student- Patricia is a Master of Applied Health Services Research student at the University of Prince Edward Island. Her thesis work focuses on program engagement in an early childhood home visiting program Patricia also works as a research assistant for a study aiming to create child health profiles by accessing administrative data in New Brunswick and Prince Edward Island. Prior to this, Patricia completed her BSc. Medical Sciences (Honours) at Brock University in Ontario.

---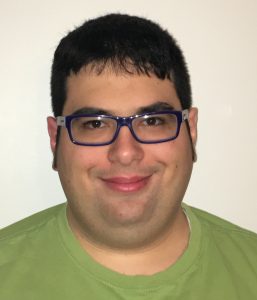 Ahmad Abd-El-Aziz, PhD Candidate– Ahmad has a bachelor's degree in Biochemistry from the University of British Columbia, Okanagan campus, and a master's degree in Biology from the University of York in the UK. The focus of Ahmad's research is on the link between climate and effects on health outcomes, with a specific focus on prenatal fetal stress, using existing data from medical databases (morbidity/mortality or hospital admission) and climate databases. Therefore, to yield a more complete picture of health in Atlantic Canada, he will attempt to compare the results in Charlottetown to elsewhere in the Maritimes, such as Halifax and St. John. Extreme weather events, such as hurricanes, and long-term weather effects, such as periods of extreme heat or cold, will also be addressed, as well as short and long-term health outcomes, for example both low birth weights and cardiopulmonary diseases later in life.
---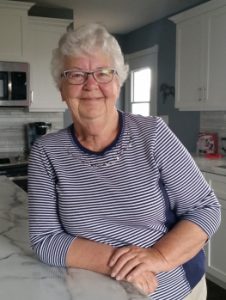 Olive Bryanton, PhD Candidate – Olive is a PhD candidate in the Faculty of Education at the University of Prince Edward Island. Her research is on women age 85 and older living in rural PEI with a focus on what supports or limits their ability to age in place. She considers women age 85 and older as "pioneers in aging" and used the Photovoice research method as a way to learn about their lived realities, to give them voice, and to increase their visibility as active and healthy members of society.  As one of her PhD supervisory team members Dr. Montelpare regards this study on older adult as an innovative approach to understanding some of the health challenges of older adults. As a lifelong advocate for older adults Olive was actively involved in the establishment of the Seniors College and the Seniors Active Living Centre and is currently serving on the Executive Advisory Committee the development of a PEI Seniors Health and Wellness Strategy. As a researcher she believes that older adults must be recognized as integral to all aspects of our society, and should be involved in any research that could impact their lives.
---
Pat Charlton, PhD is Adjunct and Graduate Faculty with the Faculty of Nursing, at the University of Prince Edward Island. Dr. Charlton completed a PhD in Interdisciplinary Studies from the University of New Brunswick, and a Post Doctoral Fellowship from the University of New Brunswick and the University of Prince Edward Island that focused on children with complex health conditions.  She held various positions in the Prince Edward Island health system for 29 years and has significant experience in program planning, development, management, evaluation, policy development and performance measurement.  Her recent research focuses on identifying gaps and barriers to accessing services for children and families with complex health conditions in New Brunswick and Prince Edward Island.
---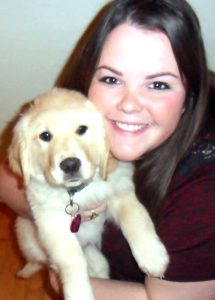 Hailey Arsenault, Masters Student– Hailey is a 24-year-old Masters degree student, who is originally from Summerside, PEI. Hailey currently works part time as a Policy Analyst with the Department of Health and Wellness, as well as works with the UPEI Centre for Health and Community Research in a student researcher role. She is also conducting her Masters degree research with "graduates" of the Pulmonary Rehabilitation program, in order to understand more about living with COPD, as well as the program itself.
---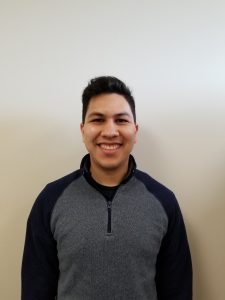 Rodolfo Nino-Esparaza, Electrical Engineer- I started my post secondary education at the University of Prince Edward Island where I took engineering. I then transferred to the university of New Brunswick Fredericton where I finished my degree in engineering in electrical engineering. The reason I decided to pursue an education in electrical engineering was due to my interest in renewable energy, and the methods of generation and distribution. During my studies, I became interested in control systems, and the many ways in which they are utilized and implemented in everyday life and across industries. Abstract- Cortisol Biosensor and Development of Saliva-Based Cortisol Biosensors using Smartphone based Image Anaylsis.
---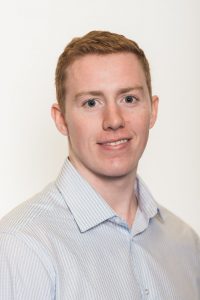 Ryan Murray, Research Student– Born and raised in Prince Edward Island, I grew up loving sports and science. I went on to pursue my undergraduate degree at UPEI in the Kinesiology program and graduated in 2017. I am currently in my first year of the MAHSR program as a University of New Brunswick (UNB) student, with plans to go to medical school upon completion of my masters. I also currently work as a student researcher at the Veterans Affairs Canada Research Directorate and as a Graduate Research Assistant for Dr. Emily Read at UNB. Dr. Read and Dr. Montelpare are my co-supervisors for my masters thesis on High Users of Primary Health Care Services Among Canadian Armed Forces Veterans.
---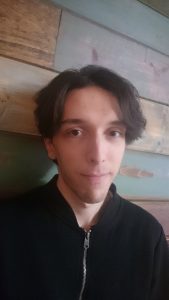 Callum MacKenzie, Student Research Assistant-
Callum has lived on Prince Edward Island for over 10 years and is an undergraduate at UPEI.  He aims to graduate with a Bsc. in Computer Science with a Specialization in Video Game Programming in 2019. Head Impact Research Device
---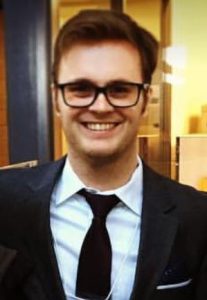 Klynton Crabbe, 3rd year Sustainable Design Engineering Student- Originally from the Charlottetown area, Klynton returned to studies in the fall of 2014 and joined the Patient-centred Research Clinic in the summer of 2017, where he began working on new appliance development. Head Impact Research Device