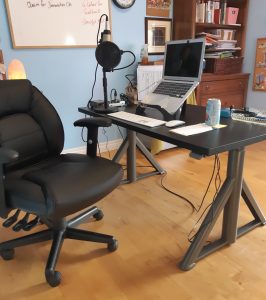 Welcome to the UPEI Work from Home Ergonomic Consulting page.
Many workers are transitioning to work from home. Doing so without knowledge and implementation of ergonomic principles can create the potential for musculoskeletal strain. Kinesiologists from UPEI's Active Living Lab are offering free online ergonomic consults for individuals on Prince Edward Island working from home to educate them about ergonomic best practices and provide suggestions on how to work as safely as possible during this period.
The session will be a 20–30 minute video conference via Zoom. The kinesiologist will review workers' existing equipment, furniture, and work habits and will discuss strategies to optimize well-being while working from home. Workers will be encouraged to bring any concerns about their health and safety to their employer.
Please note, this program is available only to workers of Prince Edward Island.  Those who have recently transitioned to work from home will be given priority.
Book an appointment here
For information or questions related to this project, please contact Carrie Jones at crjones@upei.ca.
To learn more about Kinesiology, visit KinPEI