Many people find our night sky filled with stars fascinating and would like to know more about it but perhaps don't know how to get started. If you count yourself among such people, below is some brief advice on getting started in astronomy as a hobby at little to no cost.
Firstly, you should learn your way around the night sky using some of the resources listed below. Then move on to binocular viewing if you have access to a pair. Or borrow a telescope from one of PEI's libraries. And be sure to contact one or more of the local amateur astronomer associations listed below as they are filled with enthusiastic folks who would love to share their hobby of astronomy with you.
Learn your way around the night sky
Even if you plan on eventually buying your own telescope (or have one already), this is an important and necessary step for the amateur astronomer. You can't point a telescope at the object you want to view if you don't know how to navigate the sky (and you can't troubleshoot issues with a go-to telescope properly either).
You've probably looked at the stars and noticed a few patterns already and can probably name a few constellations. Start with those you know and then use some of the resources below to build your knowledge of the stars.
Don't know how to identify any constellations? Take 15 minutes and run through this interactive sequence and you'll know the Big Dipper, Orion, and Cassiopeia.
Printed star maps
Sky and Telescope offers free sky maps in their Getting Started in Astronomy guide. There's a map for each month of the year plus a map of the Moon.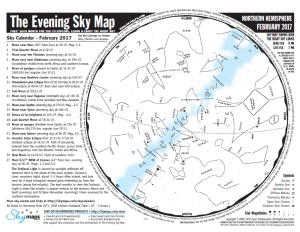 SkyMaps.com also offers free maps that you can download each month. These maps are intended for certain hours of the evening of the given month, but they are particularly useful because: (1) they show the position of the planets in that month and (2) they include a list of viewing highlights for the month.
If you'd like to print a star map for any location at any time of day, try Heavens Above Interactive Sky Chart. You'll have to set your location and the date and time that you want the map for.
For a map that is sturdier and will work for all months of the year, you can use what's called a star finder or planisphere. The National Research Council and RASC offer a star finder that you can print, cut out, and glue on to sturdy paper. This star-finder allows you to turn its disc to set it to the date and time at which you're observing. (Please note that when using it during Daylight Savings Time, you'll need to subtract an hour). The video below (from Discover the Universe) gives a good overview of how to use a star finder.
Star maps for mobile devices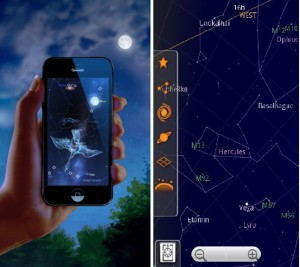 If you have a smartphone or tablet, then you can download apps that will show you what stars you're looking at. You simply point your device at the region of sky that you're looking at. There are many such apps available at a range of prices for a variety of devices. Take a look at what's available for your mobile device and read other users' reviews to get the most up-to-date information on what app will suit you best.
Planetarium software
Planetarium software shows you what the sky will look like at any time from any location on Earth. It's useful for looking ahead to see when astronomical objects will be visible or for checking back in time to see what that bright star you saw the other night was. It's also fun just to peruse it to get to know the night sky.
The fabulous program Stellarium does all of the above (and more!) and it's free as well. Download it and install it on your computer (there are Windows, Mac OS, and Linux versions) and consult the Quickstart Guide in the wiki for assistance if needed. There's also a web-based version of Stellarium.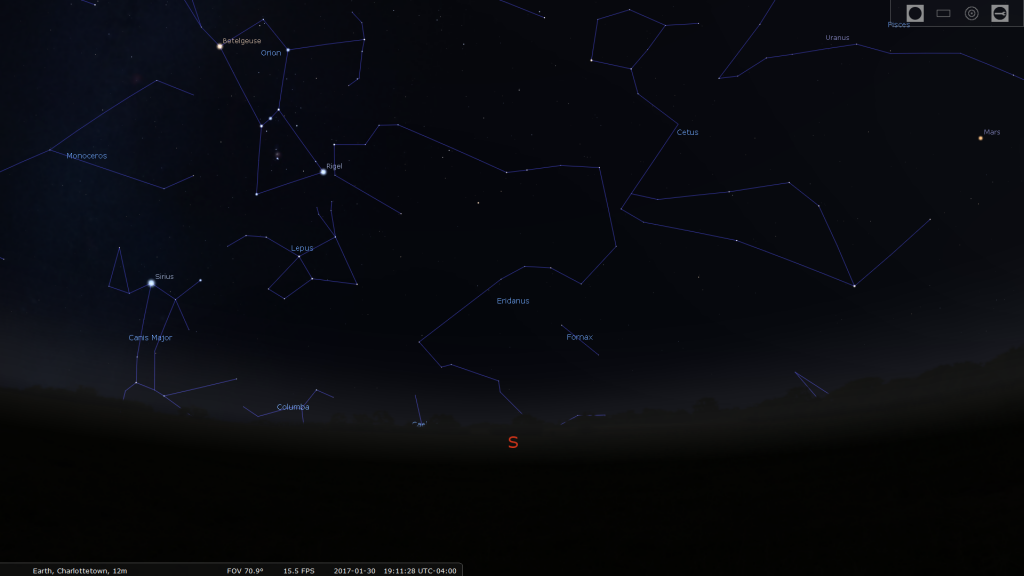 Get out your binoculars
You may have a set of binoculars at home or know someone whose binoculars you can borrow. If not, a basic set suitable for astronomy (7X50 or 10X50) doesn't have to cost too much – especially if you watch for sales! If you need to buy a pair of binoculars, here's some good advice on how to choose a pair. There's many beautiful astronomical sights that can been seen with binoculars. Binoculars are particularly useful for wider objects such as the Moon and nebulae.
If you get serious about binocular viewing, you may find that your inability to hold the binoculars nice and steady is becoming a nuisance. Binocular stands or binocular tripod adapters can be purchased or you may be able to rig up your own and save yourself some money by reviewing the links below.
Borrow a telescope from a local library
On PEI, there are several libraries that loan out telescopes. Learn more on our Library Telescopes page.
Seek out local astronomers and viewings
There are a few groups of amateur astronomers on Prince Edward Island and also a national society. These groups welcome those who share their interest in astronomy and provide opportunities for viewings through their telescopes.
Of course, while you're visiting UPEI Astronomy's website, be sure to check out information about our viewings.