Are you a returning UPEI student looking to volunteer?
Be a Buddy Volunteer today :
Buddy volunteers can be any returning domestic or International students.
There are four main roles as a volunteer:
An information resource/Guide- UPEI and PEI/ Canada
Fulfil your volunteer commitment
Contribute to building a more cohesive culture of diversity at UPEI
Sincere desire to build a friendship with an International Student
Suggested activities for Buddies
Show your new Buddy around campus, e.g.: tour of the Library, the UPEI buildings, Athletics facilities and walking trails
Study with your buddy
Attend Campus activities with your buddy
Go shopping with your buddy
Have a coffee breaks with your buddy
Introduce your buddy to some friends
You can literally do everything you normally do in your life with your buddy.
Can't commit all this, read about our New Buddy Online Assistance.
If you decide to be a Buddy Volunteer you will be enrolled in an online training course on Moodle.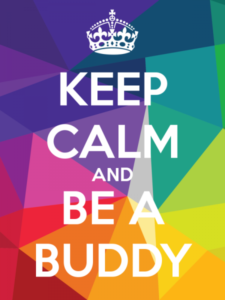 If you are a returning UPEI student and would like to volunteer to be a Buddy, please fill out the form below.