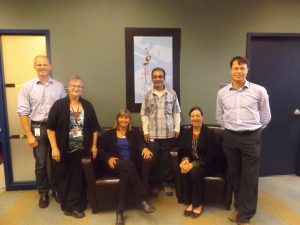 I am a Post-doctoral Fellow with the Canada Excellence Research Chair (CERC) program in Aquatic Epidemiology. In the summer of 2014, I received a Short Term Research Placement Award for training in risk analysis from the CERC. With the award, I was able to attend in-house training in Risk Analysis at the Canadian Food Inspection Agency (CFIA), Ottawa, for two weeks.
The training program was kindly coordinated by Dr. Ingrid Van der Linden of the Animal Health Risk Analysis group within the CFIA. During the training, I learned about the general and functional structure of the organisation. I learned about the overall process of risk analyses as they are undertaken within the federal regulatory system. Any risk analysis usually starts with an application to the CFIA for import request, and is performed on the basis of the OIE guidelines. I learned about the four main components of risk analysis (hazard identification, risk assessment, risk management, and risk communication) and how they are connected with each other. If a hazard is identified, then a sequential process of risk assessment is carried out. I learned about the four major steps of risk assessment (release assessment, exposure assessment, consequence assessment, and risk estimation). Both qualitative and quantitative risk assessment can be used, but for regular decision making purposes, it is often sufficient to perform a qualitative risk assessment.
The training program involved meeting with individuals working on specific modules (projects) of risk analysis and learning from them firsthand through their working examples, followed by an independent exercise on the module. I was able to work on all four steps of risk analysis, from hazard identification to risk communication. I thank the CFIA and all the people in the Animal Health Risk Assessment group for hosting my training and, finally, my sincere thanks to the CERC for the funding support.