I am a senior veterinary student at the Atlantic Veterinary College with a special interest in aquatic animal health, specifically within the salmon aquaculture industry. I have worked in aquaculture in the field and in research settings in Nova Scotia, New Brunswick, Newfoundland, and Prince Edward Island. With the help of the Canada Excellence Research Chair (CERC) Early Career Development Grant I was able to take my experiences to the international level and travel to Norway in May 2016 as part of my fourth year clinical rotations.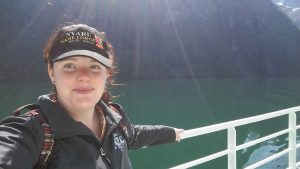 The rotation was located on Frøya, a small island just off the coast of the city Trondheim, with other senior veterinary students from the Norwegian University of Life Sciences. During the one week course we had several lectures on topics of importance to the salmon aquaculture industry, such as vaccine development, diseases of concern, sea lice eradication techniques, and how to manage the environmental impacts of fish farming. The lectures focused on the role of the veterinarian in the industry and how our education and training related to the topics presented. The lectures were presented in Norwegian, which made them quite challenging to understand at the time, but I found that it encouraged me to stay engaged, translate and study lots so that I remained caught up. We also spent 4 days taking part in field trips around Frøya and the nearby island of Hitra to visit each part of the production cycle, from a brood stock facility to one of the largest salmon processing plants in the world.
Overall, the experience was invaluable, and I greatly enjoyed my trip. Norway is one of the top salmon producers in the world, and they are industry leaders in sustainability and welfare. To learn from their experts and see the inner workings of their production ladder, from start to finish, allowed me to better understand the role a veterinarian has in aquaculture, as well as where Canada should aspire to be as our own industry continues to expand.
I thank the Canada Excellence Research Chair for their support. Without the funds provided by the Early Career Development Grant I would not have been able to attend this rotation and enjoy this amazing learning experience!