MAIS Thesis Research Proposals (2014)
Each year, as part of the requirements for IST 6040: Research Methods and Design for Island Studies, our MAIS students are tasked with writing and presenting their thesis research proposals.
Here are the 2014 cohort's presentations, created by seven MAIS students, and presented to an appreciative audience on Thursday, November 20, 2014.
We hope you enjoy the work, and, in the process, become as fascinated as we are about Island Studies!
Dr. Laurie Brinklow
Instructor, IST 6040
---
---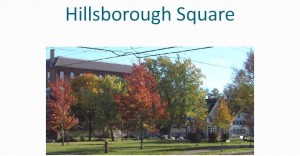 East-end Charlottetown: The urban island within
Michael Conway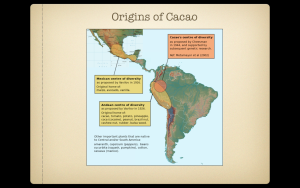 Cacao dreams in unusual places: Climate change and the Florida Keys
Eric Gilbert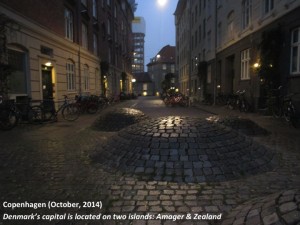 Wild Isle City: How can tourism and wildlife coexist peacefully in Canada's island cities?
Pooja Kumar
Update: Pooja Kumar successfully defended her thesis in 2020.
Title: Evolving perspectives on urban wildlife and their implications for policy-making in Charlottetown, Prince Edward Island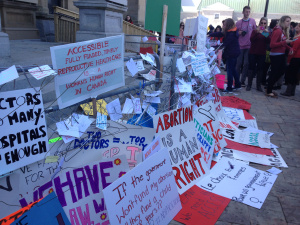 The political and community conditions that impact physician's delivery of gynaecological healthcare, particularly abortion services, on PEI
Alicia Lewis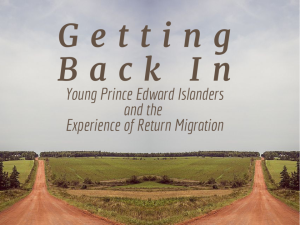 Getting back in: Young Prince Edward Islanders and the experience of return migration
Katharine MacDonald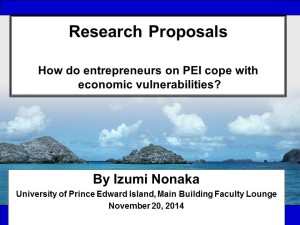 How do entrepreneurs on Prince Edward Island cope with economic vulnerabilities?
Izumi Nonaka
Update: Izumi Nonaka successfully defended her thesis in 2016.
Title: Niche and Off-Island Strategies for Island Business: Case Studies from Prince Edward Islandhttp://inonakablog.wordpress.com/2014/12/11/how-do-entrepreneurs-on-pei-cope-with-economic-vulnerabilities/?preview_id=9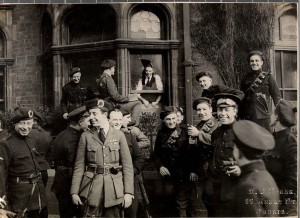 Long history, longer memory: The effects of historical memory on modern Irish identity
Erin Rowan
Update: Erin Rowan successfully defended her thesis in 2018.
Title: Isle of Hunger, Isle of Pain: Islandness, Memory, and Landscape of the Great Famine in Cahersiveen and Valentia Island, Co. Kerry, Ireland
---