Master of Arts in Island Studies · Student Research
A COLLECTION OF RESEARCH & PROJECTS
We hope you will enjoy exploring the collection of research and projects from our Master of Arts in Island Studies (MAIS) students over the last few years.
---
Sails & Tales (2020)
A new journal of Island Studies from a class of Master of Arts in Island Studies at UPEI, featuring a selection of writing and images that will transport you on a journey to the world's islands, starting off at home port, here on Prince Edward Island.
'A Walk on the Edge' (2015 – ongoing)
Each year, the intrepid students from Dr. Laurie Brinklow's 'Islandness: Culture, Change and Identity' class take a "walk on the edge," then document their experience – through words and images – of what it's like being out on the edge of the Island. And because, this class takes place in the winter semester, the experience isn't of the usual sun, sand, and sea…
Thesis Proposal Presentations (2014)
Each year, the Master of Arts in Island Studies (MAIS) students, as part of the requirements for IST 6040: Research Methods and Design for Island Studies, are tasked with writing and presenting their thesis research proposals. These are the presentations from our 2014 cohort.
---
ABOUT THE MAIS PROGRAM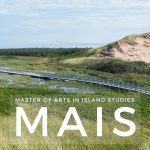 The Master of Arts in Island Studies (MAIS) at the University of Prince Edward Island is a unique, interdisciplinary, and policy-driven graduate program that critiques islands on their own terms. The program welcomes students from around the world. They come out of undergraduate programs from diverse disciplinary backgrounds and diverse degrees, or with professional workplace experience in the public, private, or resource sectors.
Learn more
---
Institute of Island Studies | UNESCO Chair in Island Studies & Sustainability | Island Studies Press | Master of Arts in Island Studies | Island Studies Journal