A Walk on the Edge 2018 | Crystal Burrows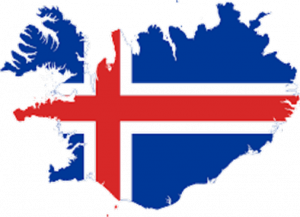 A Walk on the Edge: Iceland
Crystal Burrows
It was Fall 2014 and my husband, Jason, the trip-planner of the family, and I travelled to Iceland. At that time, I was not even aware of the Master of Arts in Island Studies (MAIS) program, let alone thinking of how I might use our journey as the basis of an assignment. However, in retrospect, I cannot think of a better fit for "A Walk on the Edge."
Iceland is a beautiful and extraordinary country, with waterfalls, geysers, glaciers, volcanos, and sheep that traverse the mountainsides in what seems like sheer defiance of the laws of physics. And yet, several years later, what sticks with me most is what I experienced along the shores of Iceland's southern coast.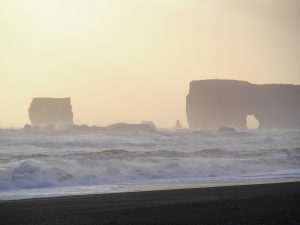 Reynisfjara Beach
Something you should know is that I am a fisherman's daughter and instilled in me is a sizable measure of respect for the sea. My father's first cousin lost his life to the Northumberland Strait while fishing when I was 11, so I understood Islanders' vulnerability to the sea from a fairly young age. However, I had never experienced the feeling of ocean vulnerability first hand. That all changed in Iceland.
"The sea was angry that day, my friends" (David et al., 1994). It may seem bizarre to quote a line from a sitcom after such a solemn introduction, but that line is exactly what came to mind when I arrived on Reynisfjara Beach: Mother Nature was angry.  I had never witnessed such large swells rolling up to meet a shoreline and, to be quite honest, it was unsettling, an immediate knot having formed in the pit of my stomach at the realization that I was stuck on an island in the middle of the North Atlantic which was being pounded by unrelenting waves.  If that isn't vulnerability, I don't what is.  Strangely enough, though, I didn't retreat inland (at least not right away). Despite being borderline terrified, I was also in awe of the sheer power that Mother Nature has at her disposal.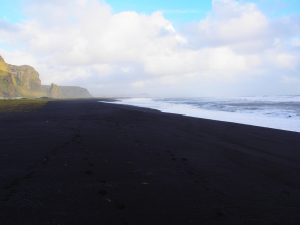 Vik
Vik, with its beach sand tinted black from volcanic ash, is a reminder that the ocean is not the only natural source of vulnerability. Imagine how it would feel to be hemmed in by raging waves on one side and an erupting volcano on the other?
Interestingly enough, Vik was also the place in Iceland where I felt most isolated. Vik is certainly isolated in terms of its location, as is the vast majority of rural Iceland.  However, it was more so the people that contributed to my sense of isolation. Based on my observations, Icelanders are, for the most part, reserved when interacting with tourists, but the reservation level is upped a few notches in Vik.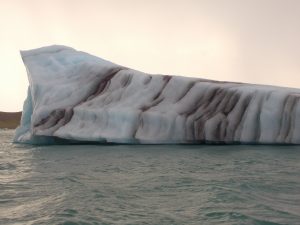 Jökulsárlón Glacier Lagoon
The Jökulsárlón Glacier Lagoon is essentially a harbour, partially bordered by a glacier.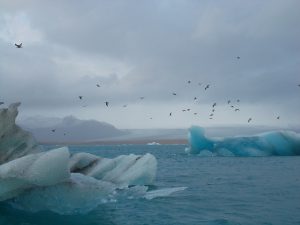 As the glacier melts, a sign of Iceland's vulnerability to climate change, icebergs break off and make their way out of the harbour to the open sea where they continue to melt and break apart.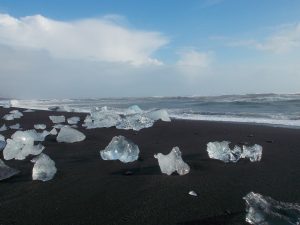 The strong waves, however, throw many of the smaller chunks of ice back up on the shore, leaving it littered with what look to be giant crystals.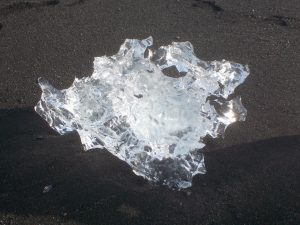 I was amazed to find such beauty amidst such a rugged land and seascape.
Heimaey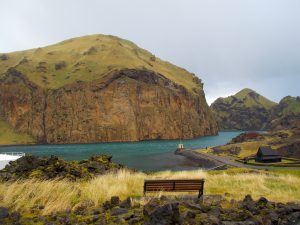 My favorite part of our adventure was the several days we spent on Heimaey, the only inhabited island in Vestmannaeyjar, an archipelago off the south coast of Iceland.
Despite the significantly different landscape, being on Heimaey felt a little bit like being at home on PEI.  The reservation I sensed on mainland Iceland was gone and in its place was a genuine feeling of welcomeness and community. I was overwhelmed when, upon hearing that Jason was a golfer, one of the staff at our hotel insisted upon getting a friend to lend Jason golf clubs so that he could play on the island's spectacular course.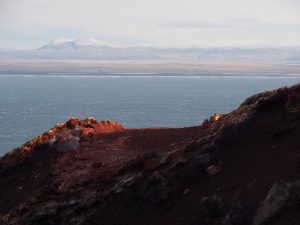 As well, the visceral fear I felt toward the sea had dissipated. Perhaps I had merely adjusted after a long and very rough ferry ride that left me greener in the gills than I care to remember. But, after looking back at the two photos shown here, I think it has something to do with a comfort that comes from a sheltered harbour and a not-too-distant mainland shore, the juxtaposition of boundedness and connectedness. It reminds me of the name the Mi'kmaq gave to PEI:  Abegweit, meaning "cradled on the waves."
What also makes Heimaey's relationship with the ocean unique is that the ocean was a source of salvation. In 1973, a volcano erupted, creating a lava flow that threatened to close off Heimaey's harbour, which was and continues to be vital to the Icelandic fishing industry. The harbour was ultimately saved by pumping seawater onto the lava to cool it down and halt the flow. The 1973 eruption is also a testament to Icelandic resiliency.  After large-scale evacuation and significant devastation, the majority of Heimaey's citizens returned and the island successfully recovered from the disaster (Lederer, 1989).
Reflecting on a journey taken years before entering the MAIS program, I am encouraged to find so much relevance to island studies themes. Not only does it highlight the significance of the sea to island studies, but it demonstrates that I am where I'm meant to be.
References
David, L. (Creator), Seinfeld, S. (Creator), Hauge, R. (Writer), Rubin, C. (Writer), & Cherones, T. (Director). (1994). The Marine Biologist [Television series episode]. In David, L., Shapiro, G., & West, H. (Executive Producers), Seinfeld.  New York City, New York:  National Broadcasting Company.
Lederer, E. (1989, August 20). 1973 Eruption Nearly Destroyed Town: Icelandic Isle, Grown Larger by 20%, Builds on Its Volcanic Past.  Los Angeles Times.  Retrieved from http://www.latimes.com/
---