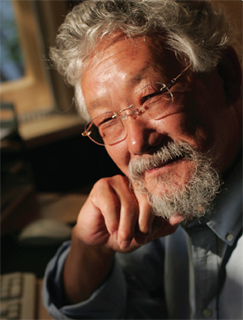 Join us Sunday, November 24 for a screening of the documentary film "Climate Change in Atlantic Canada" and a talk by Canada's best-known environmentalist: David Suzuki. The event begins at 7 pm in the Duffy Amphitheatre of UPEI's Duffy Science Centre. The cost is $22 per person, with proceeds benefiting the Kensington North Watershed Association for a new volunteer climate watchers program. The event is part of a tour of Atlantic Canada sponsored by the David Suzuki Foundation and locally by UPEI's Climate Research Lab.
About the film: Across Atlantic Canada, coastlines and communities are already being adversely affected by climate change due to increasing storm intensity, surging sea levels, coastal erosion and flooding. Preparations are now being made for the super storms of the future, but this will not be easy, as ocean levels are expected to increase over one meter globally by the year 2100 due to melting Polar Regions and warmer waters undergoing "thermal expansion." This film, shot across Atlantic Canada, represents a consultation with more than 100 stakeholders, and documents their real world experiences and efforts to mitigate and adapt to climate change. Despite being on the front lines, Atlantic Canadians show that solutions to this pressing global issue are within our grasp, provided we decide to act. Directed by Ian Mauro, Canada Research Chair. Climatechangeatlantic.com.
Book your tickets today at DavidSuzuki.org/AtlanticTour.
UPDATE: Please note, this event has sold out. Thank you so much for your interest.