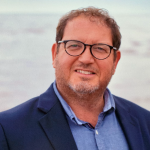 Adam Fenech, PhD (UofT), Director
Dr. Fenech has worked extensively in the area of climate change since 1988 starting with the IPCC First Assessment Report. He has edited 7 books on climate change, most recently as editor of the international journal on Climate Impacts and Adaptation Science. Dr. Fenech has taught at the University of Toronto since 1998, and lectures regularly at universities across Canada and around the world. Dr. Fenech is presently the director of the Climate Lab and the Associate Dean of the School of Climate Change and Adaptation at the University of Prince Edward Island.
T. 902.620.5220
Email: afenech@upei.ca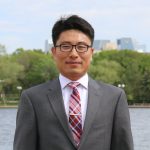 Xander Wang, Ph.D., P.Eng., Assistant Professor
Dr. Xander Wang is a tenure-track Assistant Professor in the School of Climate Change and Adaptation at UPEI. Before joining UPEI, Dr. Wang was a tenure-track Assistant Professor in the School of Geosciences at the University of Louisiana at Lafayette. Dr. Wang has a multidisciplinary background in climate science, environmental science and engineering, GIS and remote sensing, water resources, computer science, statistics, and data science. His research is focused on regional climate modeling, climate downscaling, hydrological modeling and flooding risk analysis, energy systems modeling under climate change, climate change impact assessment and adaptation studies, GIS, spatial modeling and analysis, and big data analysis and visualization. He has published over 50 peer-reviewed journal papers in the interdisciplinary field of climate change and developed a number of GIS- and web-based software tools in support of climate change impact assessment and adaptation studies. Please visit his website at http://projects.upei.ca/xanderwang/ for more details.
T: 902-628-4343
Email: xxwang@upei.ca
Ross Dwyer, Manager of Research Partnerships
Ross Dwyer is the Manager of Research Partnerships for the School of Climate Change and Adaptation at the University of Prince Edward Island, and assists the UPEI Climate Lab in his role. Ross is pursuing a Masters of Arts in Island Studies at the University of Prince Edward Island.
T: 902-620-5151 Email: rdwyer@upei.ca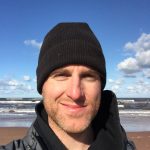 Andy MacDonald, MSc (UPEI), Drone Pilot
Andy graduated from UPEI (with distinction) with a Masters in Environmental Science focused on shoreline armouring, coastal erosion and using drones for coastal research. Andy works as one of the drone pilots for Climate Lab research projects.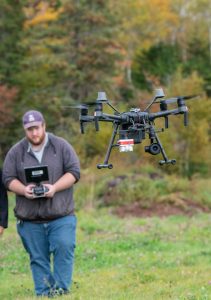 Luke Meloche, Drone Pilot
Luke has worked with the climate lab since 2019 working as both a RPAS Pilot  & Research Assistant. His primary focuses have been on the coastal erosion monitoring, precision agriculture projects, and aerial damage assessments. Luke has a Bachelor of Communication Studies from the University of Windsor, and, a GIS Applications Specialist Postgraduate Certificate from Fleming College.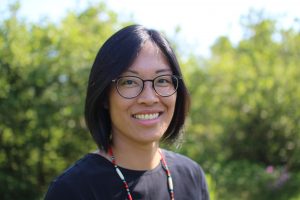 Stephanie Arnold, PhD Candidate (UPEI)
Stephanie's research is focused around climate change adaptation. One aspect is to help potato producers navigate climate change, which continues at an accelerating rate, intensifying pressure on current agricultural systems (e.g., heat stress, water stress, pest pressures) like never before. Uncertainties in the timing and severity of impacts; limitations in adaptation capacity; concerns over choosing a fixed path that leads to over- or under-adaptation; and fears of maladaptation have prevented fundamental, systemic shifts required to build resilience in agricultural systems. Adaptation pathways sequence sets of possible actions based on external changes over time and use observable indicators to trigger advancement along a pathway or prompt a transfer to another pathway. Stephanie aims to apply this proactive, dynamic, and flexible approach to help potato producers build food security under a changing climate. She will also investigate the use of remote sensing technology (e.g., drones, satellites) to help farmers measure the external changes and indicators. Another aspect of her research is the use of a developmental evaluation approach and theory of change framework in enhancing the effectiveness of adaptation capacity building programs.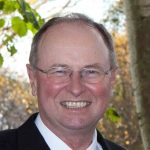 Don Jardine, MSc (UPEI)

Don is completed of a Master's degree in environmental science on climate change indicators for PEI. He has been involved with the Climate Lab since it started in 2012. He works at locating and installing climate and tide monitoring stations across PEI and on compilation and analysis of data collected from these stations. He has also been involved in coastal erosion monitoring, drone operations, and documentation  & photography of the impacts of extreme weather events and storms across the province. Don has also compiled a record of climate, weather, and phenological events that have occurred on Prince Edward Island since the early 1700s.
He has been involved with investigation and analysis of the impacts of climate change on the Mi'kmaq Communities of PEI for the past 10 years. He also has conducted or been involved in a number of environmental impact assessments of projects in the province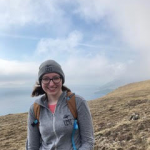 Catherine Kennedy, BES (UPEI)
Catherine graduated from UPEI with a Bachelor of Environmental Studies, specializing in Innovation and Change Management. She has been and continues to be, involved in the provincial coastal erosion monitoring project with the Climate Research Lab, helping with the collection and analysis of coastal erosion data. This will be her third year conducting coastal erosion research. She also plays a part in calculating UPEI's Carbon Footprint with the Climate Research Lab. Catherine hopes to continue her studies in Environmental Science.
Go to:
Climate Lab Alumni
Services
Find Us