A Coffee Date with Vagabond Productions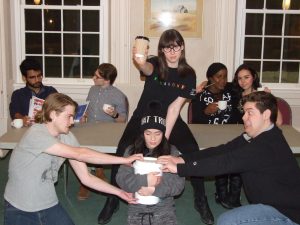 Are you a coffee addict, then why don't you java jive down with Vagabond Productions on our newest show Fresh Brewed Tales from the Coffee Bar by Henry Meyerson. The show is a series of eleven short plays that showcase various situations that are only similar in one way: they all take place in a coffee shop. These scenes range from absurd to more realistic; the one thing all these scenes have in common aside from setting is they are all hilarious.
Since it is important to vary up scenery from time to time, Vagabond is stepping out of the Faculty Lounge and into the world of coffee. Receiver seemed like the perfect place to stage this show. With this play taking place in a coffee shop, the production will truly bring audiences into the world of the play. Each scene in Fresh Brewed is wildly different from the next, which means the only thing you can be sure about in this show is there will be laughs aplenty.
The play runs March 5 to 10 at Receiver Coffee, located at 128 Richmond Street. The doors open at 7 pm for a 7:30 pm start. Admission is pay what you can. Seating is limited, with no presale tickets, so come early and enjoy a coffee before the show to guarantee yourself a seat. The play contains adult language and mature themes; viewer discretion is advised. For more information, you can contact Vagabond Productions at gdoran@upei.ca or call 902-566- 6013. (Posted February 15)
Vagabond Announces Cast for Fresh Brewed: Tales from The Coffee Bar

Vagabond Productions is proud to announce the cast for this year's show: Fresh Brewed: Tales from The Coffee Bar by Henry Meyerson. Returning to the cast this year are Michaela Wipond, Matt MacPhee, Dylan Gaudet, and Adi Vella. In addition we are pleased to announce that Tristan Lewis, Charlotte Robertson, Sophia Okpetu, and Lydia Banks will be making their performance debuts with Vagabond this year.
The play will run March 5 to March 10, 2018, and it will be performed at The Receiver Coffee Company, 128 Richmond St, Charlottetown. The performances will begin nightly at 7:30 pm, so come a little early to get a coffee or something stronger (they are licensed) and get ready to enjoy the show.
For more information, please contact Dr. Greg Doran at gdoran@upei.ca or call 902-566-6013.