News
Proof that Devin is at The Stratford Festival.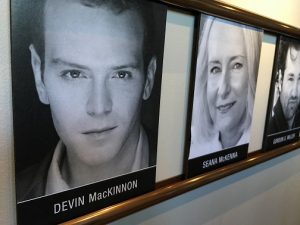 Thanks to Dr. Shannon Murray for taking the photo in the Festival lobby.
On-Campus Activities
We are all quiet for the summer. Check back in September.
Off-Campus Activities
The Buzz
Check The Buzz for information about what is going on in town and around the Island.
How to Get Involved
The Theatre Studies Program
If you are interested in learning more about the The Program, beyond what is listed in UPEI's calendar, contact Dr. Greg Doran.  He will be happy to help.
Theatre Society
The Theatre Society is the student-run extracurricular Theatre group on campus. If you are interested in being involved with the Theatre Society, simply drop an email to Theatre Society.  In that way, you can get on the list and learn about all of the activities of the Society, including productions, movie nights, social activities, and improv games and championships.
.