Headlines across the country have been saying that Prince Edward Island is in for a typical run-of-the-mill summer this year. Normally, a PEI summer (the months of June, July and August) averages 17.4 degrees Celsius and receives about 28 cm of rain. This represents the "climate normal" or the average of 30 years of data, in this case the most recent climate normal titled 1981-2010.  Last year's summer (2013) was 0.5 degrees Celsius warmer than "normal", and 30 percent drier than "normal". But what about this year?
The Weather Network has stated that: "We don't expect an especially hot summer" in 2014. Environment Canada agrees. Using climate models, that is, mathematical equations of the physics and chemistry of the atmosphere strung together and calculated using the largest computers in the country (known as supercomputers) to forecast seasonal weather, Environment Canada forecasts the summer of 2014 to be "normal" or no change from the climate normal above. I must mention, however, that Environment Canada's seasonal forecast models are accurate for Prince Edward Island only 40-50% of the time (which is not significantly better than chance, meaning flip a coin and you'll have the same odds of getting the forecast correct). Environment Canada's seasonal forecasts are accurate in Northern Quebec, the southern Yukon and Baffin Island; but here on PEI, not so much.
We all know people who swear by the Old Farmer's Almanac when forecasting the seasonal weather, as it has been forecasting seasonal weather since its first issue in 1792 (the time of George Washington's presidency) using  a "secret formula" kept tucked away in a black tin box at the Almanac offices in Dublin, New Hampshire. The Old Farmer's Almanac makes claims of 80% accuracy of their results, but studies of their forecasts show no better over the long-term than about 50%. The Old Farmer's Almanac forecasts the summer climate of 2014 to be "warmer than normal, with the hottest periods in early to mid-July, mid- to late July, and mid- to late August. Rainfall will be above normal." So warmer and wetter.
My own research at UPEI that examined 140 years of weather observations here in Charlottetown has shown that the climate has definitely gotten warmer and drier, especially over the past 15 years or so. And that's where I put my forecast for the summer of 2014 – to continue the trend and be "warmer and drier".
Climate is variable, though – it goes up and down. Climate is nature's merry-go-round so it is often difficult to predict the coming season even with supercomputers, secret formulas or historical trends. To emphasize this point, I asked my newest Climate Lab employee, former drummer from Charlottetown indie rock band Two Hours Traffic Derek Ellis, to flip coins to see what Lady Fortune's forecast for the summer of 2014 would be – the result being "colder and wetter". Derek is bound to be unpopular if he is correct.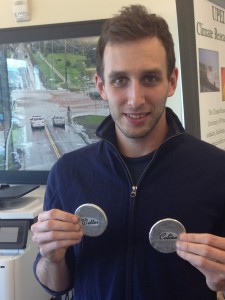 So to recap, the Weather Network and Environment Canada say that the summer of 2014 will be "normal"; the Old Farmer's Almanac says "warmer and wetter"; I say "warmer and drier";  and the coin-flipper, Derek Ellis, says "colder and wetter". Who will be correct? We will have to wait about 90 days and see.
Notes:
. Both temperatures and precipitation were below normal for the month of May 2014 with temperatures almost 1.5 degrees Celsius colder than normal (I hear a collective "no kidding!"), and precipitation about 20 percent less than normal.
. CLIVE, the Climate Lab's visualization tool of sea level rise and coastal erosion, will be touring to 10 communities across PEI in July to view local areas that may be impacted, and to share ideas on how to best address the risk. See upei.ca/climate for full details.
. Remember the 2015 PEI Weather Trivia Calendar can still be purchased at peiweathercalendar.ca or at your local Murphy's Pharmacy.
Questions? Contact Adam Fenech at afenech@upei.ca or (902) 620-5220