A Walk on the Edge 2019 · Louise Campbell
A WALK ON MY EDGE:
ANCHORED TO MOVING TIDES AND SHIFTING SANDS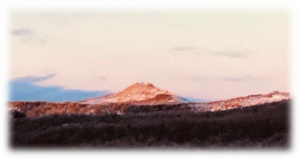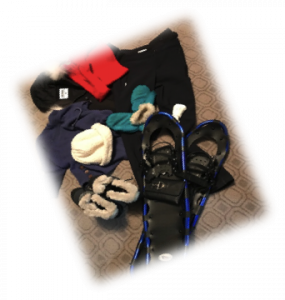 A bit ironic, isn't it, that the least stable natural elements have always been my anchor! No surprise, then, that my Edge is the moving boundary between ocean and beach. And, for this assignment, I went to my very favourite Edge – Greenwich Beach! I arrived just as the sun was preparing to greet the day and the welcome was stunning. I was dressed well for the very cold and somewhat windy elements and my snowshoes carried me smoothly across the snowy expanse separating my Ford Edge from my anchoring Edge.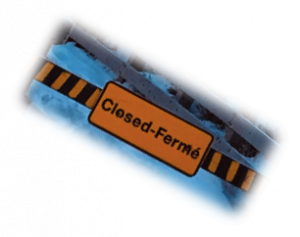 Full disclosure: Because the stairway down to the beach had been removed for winter, I didn't make it to the icy Edge. Instead, from my vantage point overlooking it, I explored my lifelong relationship with this confluence of nature. My thoughts were literally all over the map, so I'm using the passage of a beach day to explain my maturing connection with sand and sea. Please join me on my journey.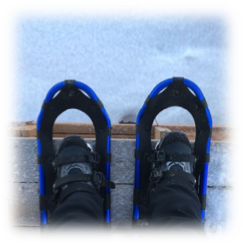 Sunrise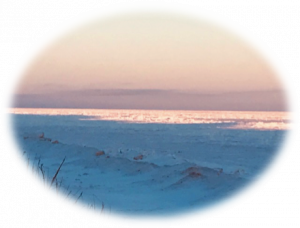 On this particular morning, the Edge is somewhat indistinct. It's impossible to tell where the sand ends and the ocean begins. And, for that matter, I can't tell where the ocean ends and the sky begins either. The raw natural beauty in the early morning light takes my breath away.
My relationship with the Edge dates back to my earliest days growing up in Souris, a small fishing town blessed with multiple beaches within a 10-minute drive. I clearly remember our sunny day routine. Dad would come home from work at noon, we would have our meat-and-potatoes dinner, we would all pile in the car with Mom behind the wheel, drop the worker off at his office, and head to Red Point for the afternoon. It was cheap and easy entertainment for our growing family and, unlike taking kids to the beach these days, Mom's only preparation was grabbing beach towels.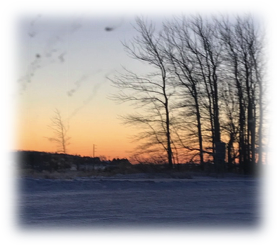 Dad didn't miss all the beachgoing. He was the one who took us to the shore on rough water evenings so we could play in the waves. We also spent many a weekend afternoon at Red Point, followed by a barbecue – hot dogs and hamburgers grilled on the tiniest and most basic barbecue you could ever imagine.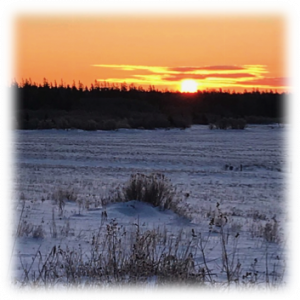 Back in those days, of course, it was simply an afternoon playing in sand and water. No introspection, no soul searching, and no thought of edge. Just making memories without even realizing it!
Morning
My love of beach continued through my teens. I was always a "big girl," so my trips to the shore were never as a beach babe. No two-piece bathing suits for me, no flirting or talking about boys. Rather, I used my towel as my theatre seat to watch these goings-on. I don't remember feeling left out in any way; after all, I had chosen to be on the periphery.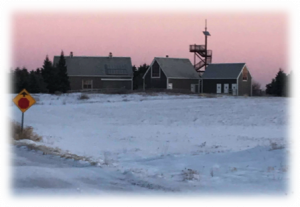 By my late teens, when I could drive myself, my beach trips were often to the popular Basin Head, rather than the more family-oriented Red Point. I still kept in the background, but I sure did enjoy the vibe, the excitement, the revelry. During these years, I also began to explore beaches further afield: Blooming Point, Lakeside, Victoria and the Brackley and Cavendish national park beaches. In retrospect, none of these even remotely measured up to this beach I'm lucky enough to be at this morning.
I still didn't consider the beach as an edge, but it was during this period that I began to consider it as more than an expansive playground. I started to appreciate it as a part of nature, a place to walk, a beautiful element of my Island home.
I have seafoam in my veins, I understand the language of waves.
– Le Testament d'Orphee
Afternoon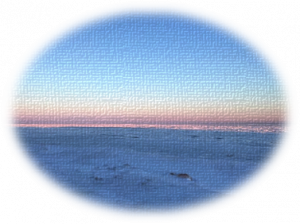 In my early adult years, the beach became my "Edge" – though I wouldn't have thought of it in those terms back then. While I still liked to frequent the popular beaches from time to time, I increasingly sought out the quieter spots further afield. It was also during this period that I discovered this very beach – Greenwich. In those days, there were no parking lots, no interpretive centre, no facilities or picnic tables, and no "stay off the dunes" signs. I would simply drive until I could go no further, then walk over the huge dune to get to the beach beyond. What a vista!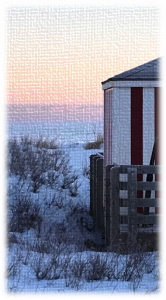 Because there is nothing more beautiful than the way the ocean refuses to stop kissing the shore, no matter how many times it's sent away.
– Sarah Kay
As with life in general, trips to the beach had become a bit more complicated. I had graduated to a lawn chair (no sleek beach chairs slung over my shoulder as a back pack) and brought enough books and snacks to last for several hours. Occasionally my sister or brother would accompany me, but mostly my Edge visits were solitary, especially to this beach. In fact, there were times I would spend the whole day here and not see a soul.
As a single young adult, I was often lonely – but the loneliness disappeared once I got to the Edge. I felt comfortable and connected – like I belonged.
It was a giant reset button. You could go to the
edge of the land and see infinity and feel renewed.
– Avery Sawyer, Notes to Self
Evening

I would consider these years as the evening of my ongoing date with the Edge – no longer lonely, comfortable in my skin, and equally at home on both busy and secluded beaches. My favourite people to share the Edge with are my husband and daughter. While Tom enjoys the beach when he has a chance to get there, Lily is every bit as much a beach bum as me!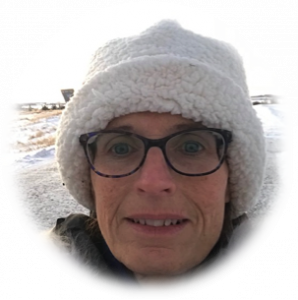 Speaking of Lily, from the time she was a baby, I have taken most or all of the summer off work so she, too, could grow up enjoying the freedom a beach provides. At that point, as a new parent, my life and beach preparations became even more complicated – I lugged so much "necessary" equipment to the beach, I could barely carry her. Because Lily was shy, I figured out pretty early that if I brought a big laundry bag of beach toys, the other kids would come to her. I spent many hours with her in the water and building castles on the sand – and instilling a love of my Edge.
Lily is a perfect teen to share my beach passion with – and doing so has amplified my connection to the Edge. We read, we snack, we swim, we walk, we talk, and we savour our many hours at the beach, any beach, here or abroad. We still walk hand in hand and when we are lucky enough to have Tom join us, we walk hand in hand in hand. I love family time on the Edge.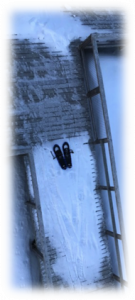 Though I'm layered up, I'm starting to get a chill on this frosty morning. But I can't leave until I climb to the top of "the tower," always our last stopping point at Greenwich. From this elevation, I feast my eyes on the sand, snow and ice which stretches for miles around. My snowshoes look like toys below. As I strap them back on and head back to the car, I'm extremely grateful for this invigorating trip to the Edge.
Sunset
My relationship with the beach is not yet over. In fact, I fully intend to enjoy my Edge for years to come. I cannot imagine a time when the beach won't clear my mind, caress my body and soothe my soul. And now, thanks to WaterWheels on many beaches, I'll be able to keep the connection going, even if I can't get to the Edge under my own steam.
Lily and I spent our last girls' trip in Dominican Republic. In our beach bum tradition, we spent full days on the beach. We walked on the shore during every sunrise and every sunset – and read, napped, did crossword puzzles, shared thoughts and dreams, and played in the waves during the intervening hours. It was remembering that experience that prompted using the passage of a beach day as a metaphor for my love affair with my Edge – my anchor.
An island means grounding, stability …. Our fears and desires can both find a habitat on such innocuous anonymous specks
– Peter Conrad, Insularity
---