Are you a returning UPEI student looking to volunteer?
Be a Buddy Volunteer today!
Buddy volunteers can be any returning domestic or international student! There are no requirements in order to apply to be a buddy volunteer, however, there is still some stuff you should know:
Four Main Roles or "Responsibilities" As a Buddy Volunteer
Provide information about both PEI and UPEI to your buddy! It is okay if you cannot answer all their questions, that is what the UPEI staff and your buddy coordinator is here for, but do what you can!
Being a student comes first, however, if you plan to be a buddy volunteer; know it is a commitment. You will not be penalized for not being able to assist all activities or always be with your buddy, we are all busy; however, try your honest best to be a buddy volunteer! If it is hard for you to settle up times to meet up, make sure to keep contact on social media!
In 2018, 28% of the student body at UPEI was constituted by international students from a multitude of countries. Let's try to keep that number going up by making UPEI as inclusive to international students!
Have a sincere desire to be a friend to your buddy volunteer! Try to get to know your buddy as you would any other friend, and support them to the best of your ability!
Suggested Activities for Buddies and Volunteers
Show your buddy around the UPEI campus! (Drop for a bite at the Fox and Crow, maybe watch a varsity game in the Chi-Wang Sports Center, show them the many resources they can use at the UPEI Library, Dalton Hall, and the Student Union)
Have study sessions with your buddy! The library study rooms or one of the many comfy lounges we have around campus buildings should do the trick!
Attend on-campus activities with your buddy! It can be anything from NSO events to the wet/dry events hosted by the Student Union every month! Do not miss Trivia Night happening every Wednesday night at the Fox and Crow! (P.S: I am always there!)
Have a stroll in Downtown Charlottetown with your buddy! There are several places to choose from to have a coffee or eat a meal. Do not forget the Alley has bowling, Small Print has infinite board games, the PEI Escape Rooms, and the Confederation Center Art Gallery!
Take your buddy shopping! Be it the Charlottetown Mall, Downtown Charlottetown or plain old Superstore or Walmart, your buddy will probably be needing some things as they settle on their first days, and knowing where to get those things can be a real life-saver!
Introduce your buddy to clubs and societies you are a member of if they are from the same faculty!
Do not be hesitant to invite your buddy to hang out with your friend group. You might be surprised, they could hit it off pretty well! On that same note, do not be afraid to hang out with other buddy volunteers and buddies!
You can literally do everything you normally do in your life with your buddy, it is all about being open-minded and willing to make a friend.
These are only suggestions of what I have experienced as a buddy/volunteer in my previous years, or seen others do, but feel free to engage with your buddy in many more recreational activities.
If you decide to be a Buddy Volunteer you will be enrolled in an online training course on Moodle! It offers basic "tips and bits" on how to be a buddy, and what is expected from you. It's really simple! It should only take you 15-30 minutes! Students who have been buddy volunteers in the past do not need to re-do this.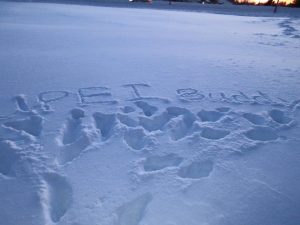 If you are a returning UPEI student and would like to volunteer in this amazing program, apply in the link below:
https://docs.google.com/forms/d/1hJRlTVVtnMV5EO3lSbqui2D3u081T6eRMT0AneGloR8/edit?gxids=7628
For more information, check out the following link: