Are you an incoming International Student to UPEI?
Be a Buddy :
If you are a new international student coming to UPEI, sign up now for the International Buddy Program for a smoother transition to University of Prince Edward Island and PEI.
The International Buddy Program will provide you with the opportunity to have a friend and mentor on campus, even before you arrive! Adapting to a new country and culture can be difficult, and that is what your buddy volunteer will help you with! Not only that but the Buddy Coordinator will be hosting events just for the Buddy Program throughout the semester.
These are really fun and will provide you with a variety of activities to do and memories to make!
Suggested Activities for Buddies and Volunteers
Show your buddy around the UPEI campus! (Drop for a bite at the Fox and Crow, maybe watch a varsity game in the Chi-Wang Sports Center, show them the many resources they can use at the UPEI Library, Dalton Hall, and the Student Union)
Have study sessions with your buddy! The library study rooms or one of the many comfy lounges we have around campus buildings should do the trick!
Attend on-campus activities with your buddy! It can be anything from NSO events to the wet/dry events hosted by the Student Union every month! Do not miss Trivia Night happening every Wednesday night at the Fox and Crow! (P.S: I am always there!)
Have a stroll in Downtown Charlottetown with your buddy! There are several places to choose from to have a coffee or eat a meal. Do not forget the Alley has bowling, Small Print has infinite board games, the PEI Escape Rooms, and the Confederation Center Art Gallery!
Take your buddy shopping! Be it the Charlottetown Mall, Downtown Charlottetown or plain old Superstore or Walmart, your buddy will probably be needing some things as they settle on their first days, and knowing where to get those things can be a real life-saver!
Introduce your buddy to clubs and societies you are a member of if they are from the same faculty!
Do not be hesitant to invite your buddy to hang out with your friend group. You might be surprised, they could hit it off pretty well! On that same note, do not be afraid to hang out with other buddy volunteers and buddies!
You can literally do everything you normally do in your life with your buddy, it is all about being open-minded and willing to make a friend.
Reminder to Buddies:
Buddy volunteers are providing their time and effort to help YOU, so be mindful of being respectful, kind, and open to new ideas, ways of thinking, and cultural practices.
Do not be afraid to share about yourself, your culture, and values; the buddy program is supposed to be an experience of learning for volunteers too!
The Buddy Coordinator will try and pair you up with someone who shares a similar cultural background and/or language with you, if this is the case, please do try to keep communication in English. It might be a challenge, but the program wants you to improve your English if it happens to not be your main language. It also provides others with the opportunity to be on "even ground" when communication is happening.
If you have any questions, or any issues with the buddy volunteer assigned to you, do not hesitate to contact the Buddy Coordinator. He will do everything he can to make this experience the best for you!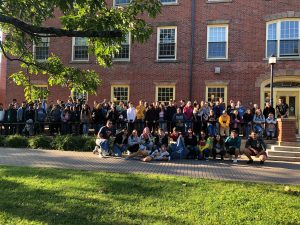 If you're an international student and would like to apply for the International Buddy Program, please fill out the form below.
https://forms.gle/yRaiM1zCE9gdGLg5A
For more information, check the following link: