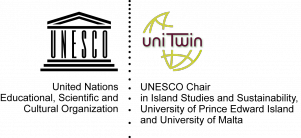 The UNESCO Chair in Island Studies and Sustainability works to establish and expand academic and research programmes on Small Island Developing States (SIDS) and Sub-National Island Jurisdictions (SNIJs).
It operates from the premise that SIDS and SNIJs are innovative, entrepreneurial and connected, not vulnerable, lacking and isolated. It builds North-South and North-South-South networks of knowledge and practice, and in so doing, assists in achieving the MDGs and proposed SDGs for SIDS and for the estimated 600 million Islanders worldwide.
The principal long-term mission of the Chair in Island Studies and Sustainability is to contribute to achieving the sustainable development of Small Island Developing States , a UNESCO priority since the articulation of the Millennium Development Goals in 2000, and to extend this priority to Sub-National Island Jurisdictions. To accomplish this, we propose to harness the insights and experience of island studies scholars, students, governments, and organizations worldwide, many of which the proposed co-Chair-holders, the Institute of Island Studies, and our partners and supporters to this proposal have already established.
One of the overarching themes of this initiative is the study and practical application of the sustainable development strategies available to small-island governments and NGOs, not only in SIDS, but also in SNIJs, of which there are more than 100 in the world, including Prince Edward Island. This is critical, since many small islands in larger "developed" states may face both challenges and opportunities that are also experienced by SIDS.
However, unlike SIDS, their ambiguous jurisdictional status makes them less visible to study and adopt actions. In this context, the Chair takes into account the capacity that small islands have for implementing sustainable practices in socio-political, cultural-artistic, economic and environmental domains. In transferring innovative ideas, methods, technologies, and resources among islands, the Chair searches for commonalities within and between SIDS and SNIJs, thereby developing a deeper understanding and appreciation of the power of island jurisdiction.