The goal of "The Bartmann Project" is to raise funds to support:
the operational, travel, and event-related costs of the UNESCO Chair in Island Studies and Sustainability; and
Entrance Scholarships to the Master of Arts in Island Studies program at UPEI.
BACKGROUND
Dr. Barry Bartmann was an undergraduate at Waterloo Lutheran (now Wilfrid Laurier) University and obtained his masters and PhD in political science at the University of Western Ontario and the London School of Economics. He started teaching Political Science at UPEI in 1987 and taught in the MA (Island Studies) program also at UPEI since its inception in 2003. He passed away on August 21, 2015.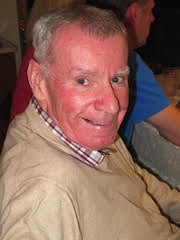 He was the academic entrepreneur who recognized that there were three discrete though inter-related niches of scholarship waiting to be tapped, and that UPEI was well placed to seek and consolidate leadership in all three. First, the emergence of an optimistic school of thought for the development prospects of small jurisdictions. Second, the recognition of the North Atlantic as a region that stood to gain from a closer scrutiny of development options and jurisdictional models. And third, the birth of island studies as a legitimate area for academic research and teaching.
During his long career, Dr. Bartmann provided specialist advice to various North Atlantic jurisdictions, including Constitutional Committees and Governments of the Faroes, Iceland and Åland. He was a recognized authority on sub-national island jurisdictions and the international relations of small (or micro) states.
Above all else, however, Dr. Bartmann was an exceptional teacher and a fine dissertation supervisor. He performed his work with the utmost passion and dedication, and his students respected him immensely for this.
THE FUND
The goal is to raise $50,000, which will be divided between the UNESCO Chair costs and the MAIS Entrance Scholarship fund.
Funds will be collected and administered by the Office of Development and Alumni Engagement at UPEI. Please contact Kim Roach at karoach@upei.ca to discuss how best to donate to "THE BARTMANN PROJECT." Or you can also donate online:
https://secure.upei.ca/donate/
Under the section "Designate Your Gift," choose "a designated area or project of my choice" and type in "The Bartmann Project" in the field that pops up.
OUR FIRST DONATION!
A huge thank you goes to Dr. Godfrey Baldacchino, former co-holder of the UNESCO Chair in Island Studies and Sustainability, for kick-starting the fundraising initiative with a donation of $5,000. We are on our way to reaching our target!
---
---
© 2021 UNESCO CHAIR IN ISLAND STUDIES AND SUSTAINABILITY, UPEI. ALL RIGHTS RESERVED.