Graduate Profile: Patrick Lévêque
GRADUATE STUDENT PROFILE
Patrick Lévêque
MASTER OF ARTS IN ISLAND STUDIES | THESIS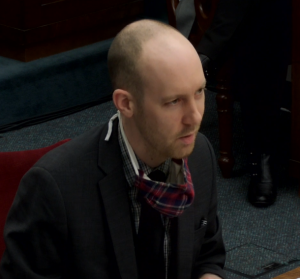 .
THESIS DETAILS
Policy capacity in rural Prince Edward Island
Supervisor: Professor Don Desserud
RESEARCH INTERESTS
Governance
Rural and community development
Sustainability
Policy
Prince Edward Island politics
BIOGRAPHY
Patrick Lévêque is a graduate student in the M.A. (Island Studies) program at the University of Prince Edward Island, where he is exploring issues of governance, politics, and sustainability in small places, including rural regions and islands. He holds a B.A. in political science, a B.Ed., and a B.Sc. in geography, all from Memorial University of Newfoundland.
Patrick is an active member of various organizations at the local, provincial, and national level, including the Winter River-Tracadie Bay Watershed Association (current board member), the Canadian Rural Revitalization Foundation, the Rural Policy Learning Commons' Rural Governance Network, the Town of Stratford's Accountability and Engagement Committee, and the Institute of Island Studies Executive Committee. He currently works as the Principal Secretary in the Official Opposition Members' Office at the Legislative Assembly of Prince Edward Island.
SCHOLARSHIPS & AWARDS
2019: Canada Graduate Scholarship – Masters, Social Sciences and Humanities Research Council (SSHRC) – More details here
2019: Island States / Island Territories Conference Student Travel Award
2018: Master of Arts in Island Studies Entrance Scholarship, University of Prince Edward Island
2016–2018: Policy Fellow, Rural Policy Learning Commons
2002: Entrance scholarship, Memorial University of Newfoundland
PUBLICATIONS
Lévêque, P. (2020). Personalistic politics on Prince Edward Island: Towards a subnational approach to personalism and democracy. Small States & Territories, 3(1), 153–172. http://www.um.edu.mt/library/oar/handle/123456789/56604
CONFERENCES
RECENT PRESENTATIONS
Canadian Rural Revitalization Foundation (CRRF) Conference – Health and Shared Prosperity | October 10-12, 2018 | University of Saskatchewan, Saskatoon, SK | More info

Presentation: "The politics of rural in a rural province: The case of Prince Edward Island" | View slides
Panelist: "Putting rural on the agenda: the prominence and priority of rural issues and opportunities in policy making"
OTHER RESEARCH & PUBLICATIONS
---