1st International Conference on Island Economic Change and Development
November 14-15, 2017
Haikou, Hainan Island, P.R. of China

Co-organized by the Hainan Foreign and Overseas Chinese Affairs Office; Institute of Island Studies, University of Prince Edward Island; University of Malta; UNESCO Chair in Island Studies and Sustainability

PROGRAM | INTERNATIONAL SPEAKER BIOS | CHINESE SPEAKER BIOS
ABSTRACTS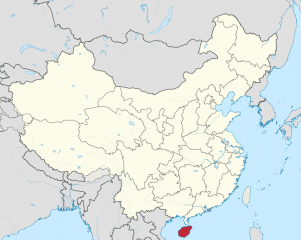 Purpose
The purpose of this conference is to bring a small group of well-respected international scholars to Haikou, Hainan to speak on cutting edge research pertaining to island economic change and development, and especially as this applies to subnational island jurisdictions like Hainan.  A second purpose is to provide an opportunity for 50-60 Chinese and Hainan scholars, government staff and researchers to actively participate in this event, translating examples from other islands around the world into cases that may have relevance to China. This will build the intellectual capacity and international professional networks of Chinese government staff, scholars and their institutions in island studies and related fields.
Themes and Sessions
Session 1 – Conceptualizing and Evaluating Models of Island Economies: Island economies have been described by using the acronyms MIRAB (i.e., migration, remittances, aid and bureaucracy), SITE (tourism) and PROFIT (strategic flexibility) models. What are the advantages and challenges of using these kinds of models to describe and understand island economies? How do island economies evolve from one model to another and how does one plan for this transition? How do each of these models develop their own forms of sustainability?
Session 2 – Measuring (Economic) Success on Islands: Long-term sustainable success of island economies rarely depends on one activity and can rarely be measured by one indicator (e.g., Gross Domestic Product).  It can be measured via a range of different metrics, including quality of life of its citizens, retention of local population and ability to attract non-locals, purchasing power, effective governance and citizen participation, low carbon footprint, a diversified economy, a powerful brand identity, the presence of entrepreneurship, and the degree of openness to external markets and ideas. This session summarizes and critically examines the ways in which we define and measure (economic) success on islands.
Session 3 – Local to Global Factors Influencing Island Economies: Island economies tend to be impacted by domestic, national and regional/international events and dynamics. How do local stakeholders – in both state and civil society – influence an island's economic make-up, especially in light of global forces? How challenging are transitions to 'green' and 'blue' economies, and are these 'colour' economies truly a step forward for islands or an excuse for continued unsustainable practices dressed up in sustainable jargon.
Session 4 – Comparing the Economic Past, Present and Futures of Small Island States (SISs) and Subnational Island Jurisdictions (SNIJs):  Island economies can be organised in terms of sovereign and non-sovereign jurisdictions. What are the benefits and disadvantages of being a sovereign island state today, and how do these compare to the benefits and disadvantages of being autonomous but not independent? This session will address these questions from a local (e.g., Hainan), regional (e.g., Taiwan, Macau, Hong Kong) and global scales.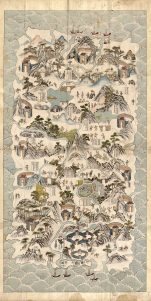 A 19th-century map of Hainan Island
_____________________________________________________________