The 1st International Conference on
Small Island States (SIS) and Subnational Island Jurisdictions (SNIJs)
A NOTE FROM THE CONFERENCE ORGANIZERS:
Given the catastrophic impact of the hurricanes on Sint Maarten earlier in the fall, we've had to postpone our international conference, Island States/Island Territories. We had hoped to be able to find another location for it and keep the dates as is, but, given the amount of time that was needed to organize it properly, we decided after much soul-searching it just wasn't fair to any organizer to have to pull something together so quickly.
We are optimistic that we will host the conference in 2019, and will be rallying our conference steering committee early in the New Year to begin planning afresh. Once we've determined the dates and location, we'll be back to you with more details, with the hope that you'll either submit an abstract or join us as a conference delegate.
We are sorry to have to bring this news… but we send our best wishes to you and to all our friends in the Caribbean – and in particularly Sint Maarten/Saint Martin – who have had their lives turned upside-down by the hurricanes.
If you have any questions, or comments, please don't hesitate to be in touch (brinklow [at] upei.ca). We look forward to sending new details for 2019.
Sincerely, Laurie Brinklow
on behalf of the conference co-chairs, Jim Randall and Godfrey Baldacchino; the local organizing committee chairs. Geneve Phillip-Durham and Arjen Alberts; and the steering committee, Matthew Bishop, Peter Clegg, Jack Corbett, Jeanne de Bruin, Leo Huberts, and Wouter Veenendaal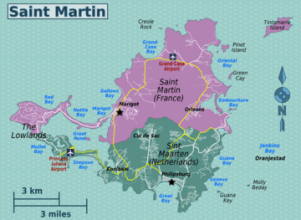 https://en.wikivoyage.org/wiki/Saint_Martin
---
CALL FOR PAPERS | We will reopen the CALL FOR PAPERS in 2018. If you are not on our mailing list already, and would like to be contacted for updates, please e-mail Laurie at brinklow [at] upei.ca. In the meantime, thanks to all who submitted abstracts. We will ask you to consider resubmitting when we have reopened the call.

Small Island Developing States (SIDS) comprise a significant and vocal lobby of sovereign island states: of late, they have been especially active on the 'climate change' front, and have secured global media attention to (and much sympathy with) their predicament as likely victims of global warming and sea level rise at UNFCCC COP 15 in Copenhagen (2009) and again at COP 21 in Paris (2015). MORE
---
Starting with Ethiopia in 1941, no less than 129 countries have achieved independence in the last 70-odd years. This trend has been spearheaded by former colonies pressing for, and achieving, full sovereignty, as well as by the breakup of morally bankrupt empires (Soviet Union, Yugoslavia) in the face of agitations for self-determination. Models of 21st-century world governance are based on, and organized around, the sovereign state. There are now 193 such members in the United Nations. Most international and regional organizations, as well as diplomatic efforts, imply the exclusive operation of sovereign, independent states and their representatives. But: this impetus towards sovereignty has ground largely to a halt. Only four states have secured independence since 1993; East Timor, Montenegro, Kosovo and South Sudan; of these, one (Kosovo) remains partially recognized and another (South Sudan) is caught in a deadly civil war. MORE
---
Hosted by the UNESCO Chair in Island Studies and Sustainability,
University of Prince Edward Island/University of Malta,
and The University of St Martin, Philipsburg