Insular knowledge: Building a community of islands through knowledge mobilization
Imagining the future of Knowledge Mobilization: Perspectives from UNESCO Chairs
BACKGROUND
In January 2020, the Canadian Commission for UNESCO (CCUNESCO) put out a call to Canada's network of 27 UNESCO Chairs to contribute to a series of thought papers on Knowledge Mobilization (KMb). Our submission to look at KMb specifically as it relates to islands was one of six submissions selected. Working to a tight deadline, we carried out focus groups in the Atlantic region, the central Great Lakes region, and Canada's west coast asking questions about the ways and means island groups and organizations get research results and other information out to the general public. We wanted to find out if KMb is different on islands and we found that, yes, it is, and came up with some recommendations to address the gaps.
The paper underwent a rigorous peer-review process, with input from over 50 individuals from Canada and around the globe. The process embodies the spirit of knowledge mobilization. A huge thank you goes out to those islanders who contributed to the paper.
Imagining the future of Knowledge Mobilization
The resultant collection, entitled Imagining the future of Knowledge Mobilization: Perspectives from UNESCO Chairs, is a joint effort by CCUNESCO and the Social Sciences and Humanities Research Council (SSHRC) to inform an ongoing dialogue built around the excellent work being undertaken by Canada's network of 27 UNESCO Chairs. The collection was published online in January 2021, and features six papers from Canadian UNESCO Chairs and one from a German UNESCO Chair.
Our contribution, Insular knowledge: Building a community of islands through knowledge mobilization, authored by Jim Randall, Laurie Brinklow, and Marlene Chapman, is Chapter 5 in the collection, which can be accessed here.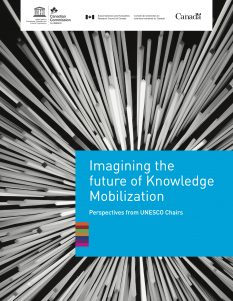 KMb strategies range from co-creation, knowledge exchange and creative dissemination techniques to decolonizing knowledge and practicing open science. This collection of papers takes such ideas further, with insights on how KMb can help us confront formidable contemporary challenges like the climate crisis, international socio-economic inequities, a global pandemic and the growing menace of skepticism toward knowledge itself.

– Ted Hewitt (President, SSHRC) & Sébastien Goupil (Secretary-General, CCUNESCO)
Download Imagining the future of Knowledge Mobilization
ENGLISH | EN FRANÇAIS
---
© 2021 UNESCO CHAIR IN ISLAND STUDIES AND SUSTAINABILITY, UPEI. ALL RIGHTS RESERVED.