Building Small Island Resilience to Global Climate Change:
An International Symposium and Public Forum
September 20-23, 2016 | Charlottetown, Prince Edward Island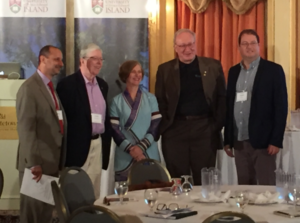 L-R: Dr. Godfrey Baldacchino, UNESCO Chair in Island Studies and Sustainability; Hon. David MacDonald; Dr. Catherine Potvin, Canada Research Chair on Climate Change Mitigation and Tropical Forests: Science for Empowerment, McGill University; Hon. Wade MacLauchlan, Premier of Prince Edward Island; and Dr. Adam Fenech, Director, Climate Lab, UPEI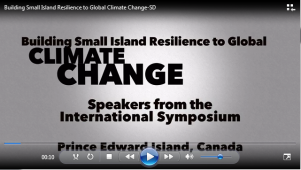 A SYMPOSIUM INTRODUCTION
Video by Brian Ogden
with assistance from Jeff Eager
ABOUT THE SYMPOSIUM
UPEI's UNESCO Chair in Island Studies and Sustainability and the UPEI Climate Research Lab co-hosted an international symposium entitled "Building Small Island Resilience to Global Climate Change: An International Symposium" September 20-23, 2016, at the Rodd Charlottetown in Charlottetown, Prince Edward Island.
The Symposium brought together 16 speakers from around the world to discuss how residents of small islands and coastal jurisdictions can build on their strengths and resourcefulness to respond to the consequences of climate change. The focus was on four areas: food security, renewable energy, innovation, and cultural heritage. Co-chaired by Dr. Jim Randall, co-holder of the UNESCO Chair, and Dr. Adam Fenech, director of the Climate Lab, the symposium was funded in part by the Atlantic Canada Opportunity Agency (ACOA) and the province of Prince Edward Island.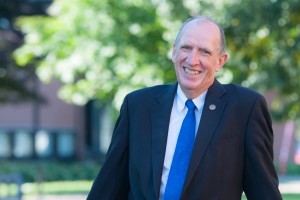 Dr. Jim Randall,
Symposium Co-Chair
Symposium speakers included climate and island studies experts who who brought their unique knowledge and skills to the table. They come from Australia, Vanuatu, Denmark, Faroe Islands, Gotland, Montreal, Toronto, St. John's, Tignish, Lennox Island, and Charlottetown. Together with an invited group of engaged audience participants, the symposium addressed the pressing issue of climate change and small islands in an action-oriented and policy-focused series of dialogues that will provide public policy lessons for other jurisdictions.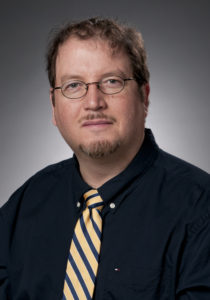 Dr. Adam Fenech, Symposium Co-Chair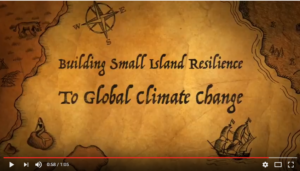 A SYMPOSIUM TEASER
Video by Bryan Ogden
with assistance from Jeff Eager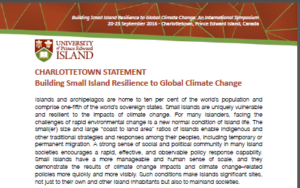 EN FRANCAIS
(translation by Helene Chevrier)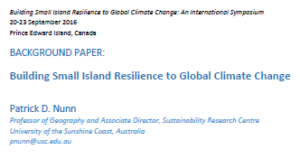 BACKGROUND PAPER
by Dr. Patrick Nunn
---
MEDIA REPORTS